Craddock Terry Hotel Lynchburg, VA Welcomes New Puppy Penny Loafer
February 14, 2018 • Travel • Trends
Craddock Terry Hotel is a 44-room storied hotel situated along the banks of the James River, Craddock Terry Hotel is Lynchburg, Virginia's only boutique hotel.
Formerly an old shoe factory, the Craddock Terry Shoe Company was once the fifth largest shoe company in the world. The other half of today's hotel building housed the William King Jr. Tobacco Warehouse. Hal Craddock, the great grandson of John W. Craddock, was the chief architect of the Hotel and lovingly took nearly five years to restore the two buildings. During the renovation, great pride was taken to retain the original industrial feel, with exposed wood beam ceilings, brick and stone exterior walls and nine-foot tall windows, while at the same time updating the buildings into a modern first-class facility.
Today the decor throughout the hotel is accented with lovely historical artifacts mixed with modern artwork, and a unique collection of shoe memorabilia - breakfast is delivered in old fashioned shoe shine box, which is set on the guests bed in the evening and placed outside the door to receive complimentary breakfast the next morning.
5 Reasons Why You Need To Stay at Craddock Terry Hotel:
Hotels With a Past: This this boutique hotel is housed in a former shoe factory - the fifth largest in the world at one point, actually! This quirky history is felt in so many elements of the hotel to this day.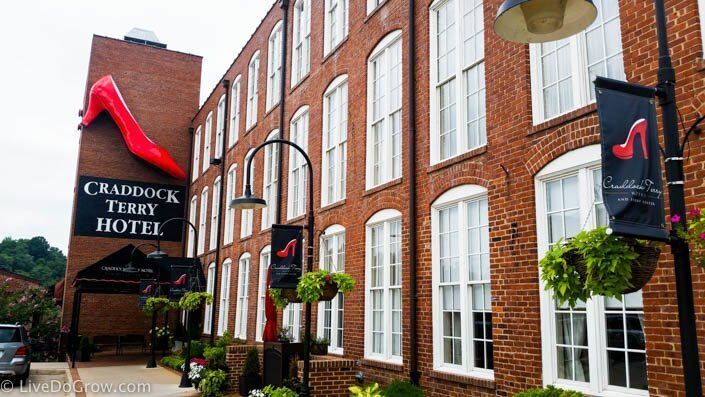 Pet-Friendly Travel: (FIDO's favorite reason!) As soon as guests walk through the door, they will be greeted by the hotel's mascot, Buster Brown. The "official greeter" of Craddock Terry Hotel, Buster is a 9-year-old Wirehaired Fox Terrier. Buster even acts as a tour guide - guests can take him on walks or runs to explore the local area during their visit. Buster is now joined by Penny Loafer, a brand new female Wirehaired Fox Terrier puppy. Beyond furry friends to play with, dogs staying at Craddock Terry can enjoy special treats, food/water bowls and a large outdoor space to run when visiting.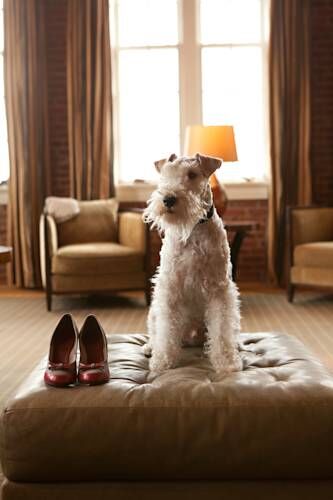 Great American Road Trips: Off-the-radar Lynchburg, VA is the perfect place to check-out and check into Craddock Terry Hotel. Take in the sights and experience a technological detox while you explore the beautiful Blue Ridge Mountains. Popular with avid motorist and motorcyclists traveling from Asheville, NC, or Charleston, SC, this quaint and historic town makes for the perfect road trip stop off.
Affordable Weddings & Events: With rates starting at $169, while still boasting dramatic views of the James River and the Blue Ridge Mountains, Craddock Terry Hotel offers the perfect venue for an under-the-radar wedding destination. With nearly 4,000 sq. ft. of newly renovated meetings and events spaces, weddings of all sizes can be accommodate. Wedding guests will have endless activities during the wedding weekend - the property is just a short walk from historic downtown Lynchburg, where you'll find everything from community markets and museums to cultural venues and outdoor activities. Guests can walk, hike or bike through a variety of nature trails, taste their way through nearby wineries and wonder through community markets and antique shops. For history lovers, Lynchburg has been the backdrop to everything from the Civil War battles to plantations, wineries, lush gardens, countless cultural and outdoor activities, annual festivals and events and Poplar Forest, the home of Thomas Jefferson.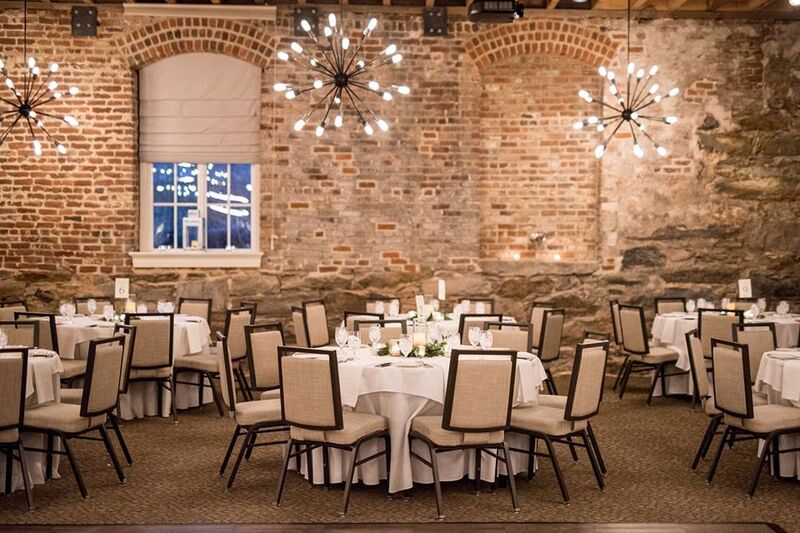 Homecoming Hotels / Collegiate Travel: Close proximity to Liberty University, Lynchburg College, or Randolph College makes Craddock Terry Hotel an ideal choice for family and friends visiting colleges that want to actually get a true feeling for the local community.
To learn more and book your stay (today!) click here!
Related blog posts