Surfs Up FIDO Style
July 09, 2018 • Trends • Health & Wellness • by Guest Writer
What do you do when your dog loves the water, loves to be with you all the time, and loves the beach? Well, you teach them how to surf, of course! Dog surfing is one of the most popular growing new sports and activities for dog lovers. It allows dogs to spend time with their owners, get exercise, enjoy the beach, and learn a new skill and challenge.
People ask, "Can dogs surf?" Indeed they can, and they do! Dogs love to be with their human friends, and often they want to join in on the fun, especially surfing. Top surfers believe that dogs who learn to surf also develop a unique attitude, knowing they have something that sets them apart from other dogs in body and mind.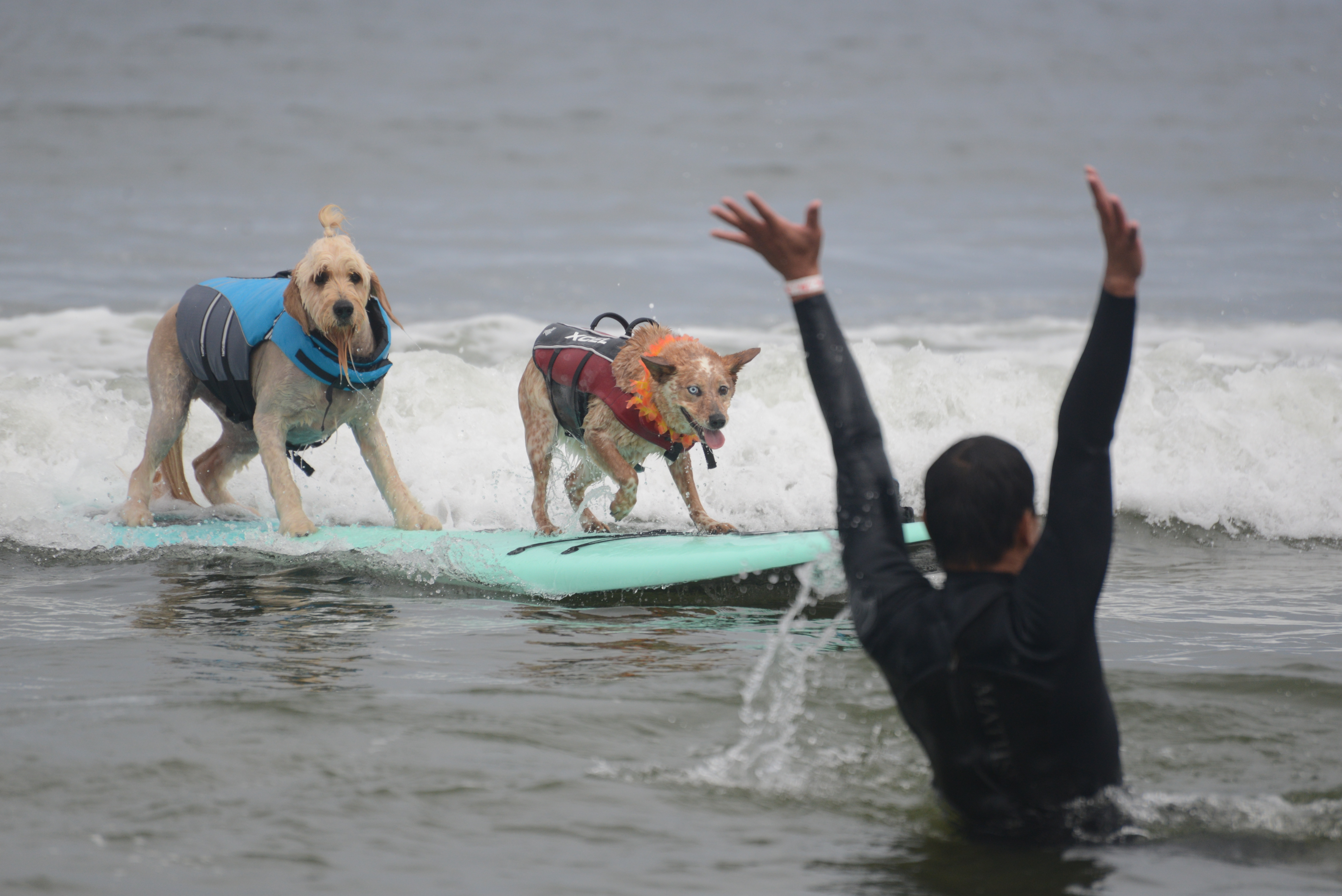 "Dogs flourish in the positive energy of their human partner and the environment", says Charly Kayle, Animal Reiki practitioner and host of "mind·body·paws: Holistic Living For You & Your Animals" on EmpowerRadio.com. As a dog surfing judge in Northern California, Charly sees firsthand the positive effects on the pups. "Every part of their being is alive, which is as healthy as it gets. You can see the pride and excitement in their essence after they slide into the surf, which is amplified by the cheering of the crowd. Most importantly, if a dog does NOT want to continue riding the waves, we stress that they can discontinue at any time with no penalties and no shame. Safety and enjoyment are the most important considerations for all."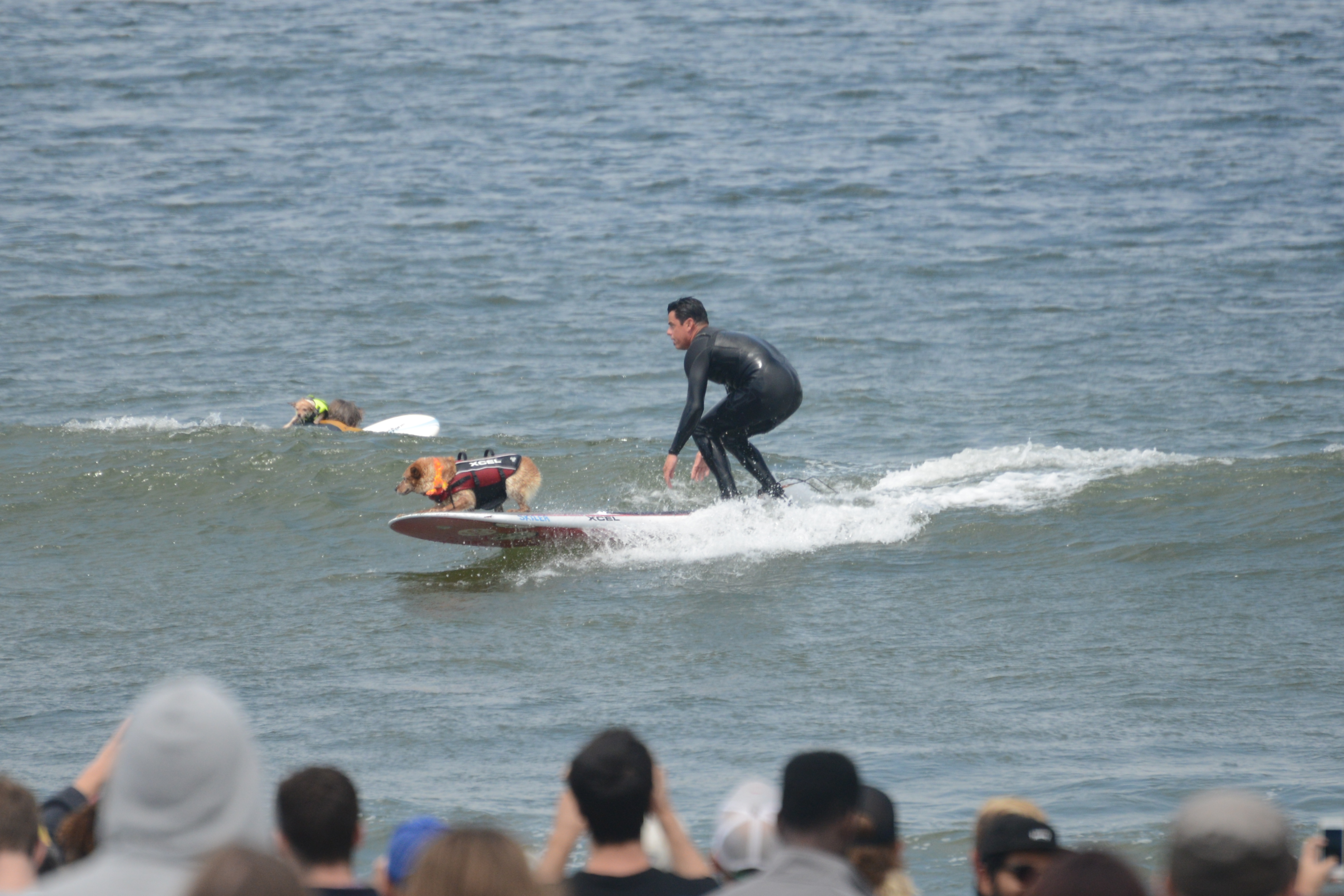 The very first dog surfing competition was originally created by TCB Cafe Publishing as the "Small Wave Surf Dog Competition" in 2006. This pioneering surf dog competition was conceived and developed by the author of the book, The Dog's Guide to Surfing, who proposed to a Southern California hotel the idea and to host the competition. The debut event took place at the Loews Coronado hotel in San Diego, and its success was so great that it has spawned several similar dog surfing events across the world, including many in California, Florida, Australia, and the United Kingdom.
There are indeed several dog surfing events that take place annually across the globe. These include the Dog Surf-A-Thon in Southern California, as well as events in Jupiter California, and even Galveston Texas. It goes without saying that Australia, a big surf and culture, has a fantastic dog-surfing event.
A sample list of dog surfing events worldwide includes:
World Dog Surfing Championships (Northern California)
Surf Dog Surf-A-Thon Dog Surfing Competition (Del Mar Dog Beach, California)
Surf Dog Competition | SurfDog - Huntington Beach (California)
Unleashed by Petco Surf Dog Competition (formerly Loews, California)
Noosa Festival of Surfing on Queensland's Sunshine Coast (Australia)
Surfing Dog Spectacular (Australia)
VetShopAustralia Surfing Dogs
Florida International Dog Surfing Championship (Florida)
Hang 20 Surf Dog Classic (Florida)
Ohana Surf Dog Competition (Galveston Humane Society, Texas)
Dog Surf Competition Playa Los Cerritos (Cabo)
With all these events taking place, the sport is growing. One of the goals of the World Dog Surfing Championships is not only to hold an annual event that ties them all together, but also to keep track of the performance of these events from an athletic standpoint. That is why the World Dog Surfing Championships have also been keeping track of every dog's performance and scoring so that it can publish a regular list of the Top Dog Surfers in the world, similar to one that is published by the all-human World Surfing League.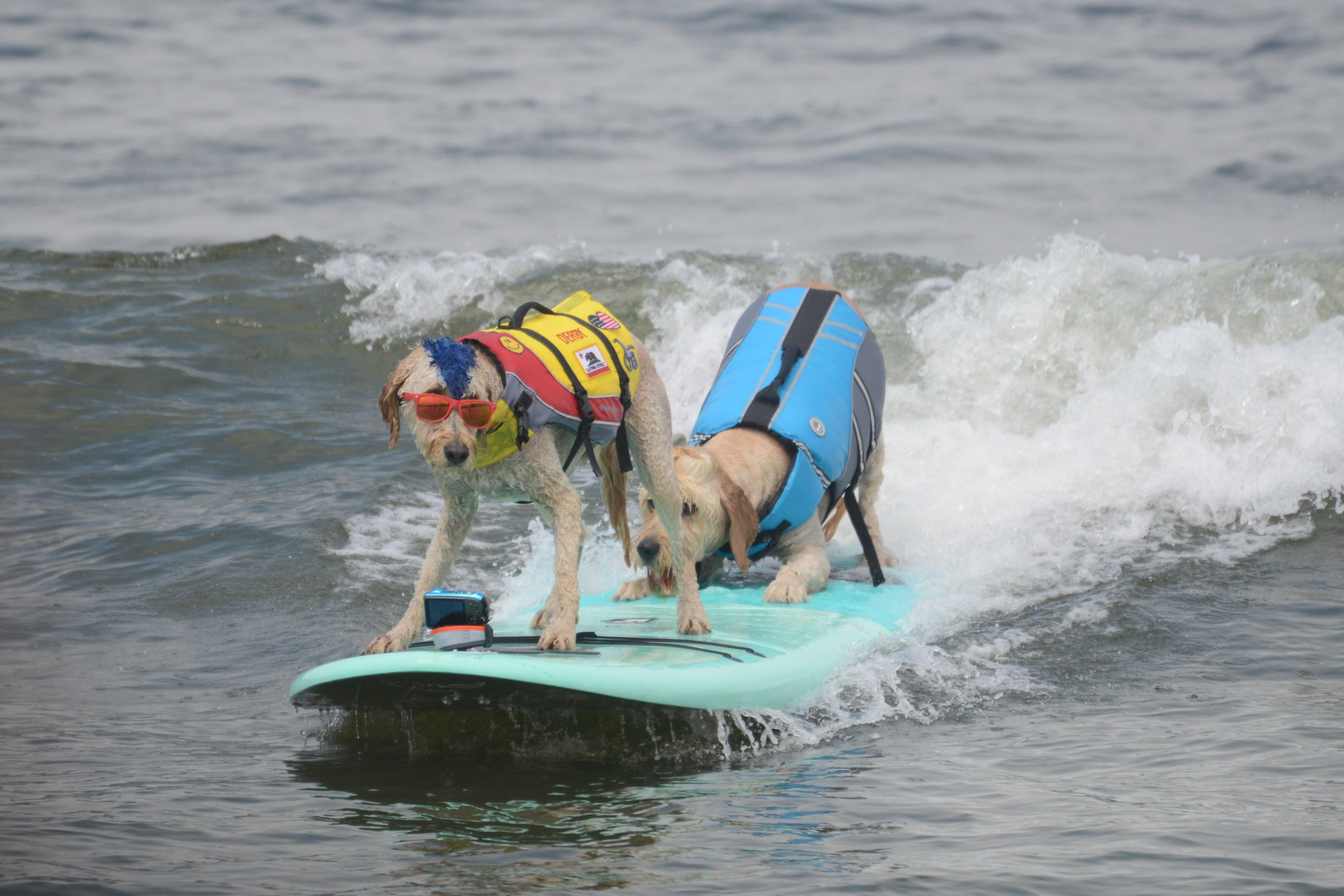 This is just the 3rd year for the World Dog Surfing Championships, which take place outside of San Francisco in Pacifica, California. Despite it being relatively new, the event has become one that dog surfing lovers cannot miss. Fans from across Northern California come to attend, and dogs from across the world come to compete. One noticeable difference between Northern California and Southern California is the weather. Northern California is a bit cooler than some of the Southern California and Hawaiian dogs are used to, and most of the humans wear wetsuits while in the water instead of swimsuits. Of course all of the dogs wear lifejackets, because safety comes first.
As with all of the dog surfing competitions, the goal is to raise money for dog charities. In 2018 the World Dog Surfing Championships hope to raise money for the Peninsula Humane Society as well as the Rocket Dog Rescue organization.
We wish them all good luck, and Mahalo! ("Thank You")
The Team at TasteTV
World Dog Surfing Championships
All photos courtesy of Steve Linder/TasteTV
Related blog posts