Tailgating Pet Safety Tips - Keep FIDO Safe
August 05, 2018 • Health & Wellness
Tailgating season is upon us, which means lots of yummy food, big crowds, and friendly (or not so) rivalries. Make the most of the season with the following tips from leading animal welfare nonprofit Michelson Found Animals Foundation, and ensure that your fav tail wagging friend can safely partake in the fun too.
Make sure your pet is wearing an ID tag with the correct information. It might sound like a no-brainer but 1 in 3 pets will go missing at some point, and an easy preventative action you can take is having an up to date collar and keeping your pet on a leash when possible.
Avoid burnt paws. If the pavement is too hot for your bare feet, well guess what — it's too hot for your dog's paws. Always check the pavement before bringing your dog outside. If you can't avoid walking your dog across hot pavement, invest in a product that protects its feet. If your dog doesn't like the feel of protective coverings such as boots, try a topical product that creates a protective wax barrier between your dog's paws and any surface they touch.
3. Know what you can and cannot feed your dog.
TOUCHDOWNS: Lean Hamburger, Chicken Breast and Cheese
Lean protein is A-Okay for pets! When it comes to non-fatty cuts of meat, pretty much anything goes. Feel free to feed your dog bits of lean fish, pork or beef. These cuts should be low in fat, free of sauces and bone-free. Pets can also eat cheese, just make sure they only have a small portion. Dairy and fat can upset a pet's stomach, so cheese should just be a special treat and not a staple.
PENALTIES: Hotdogs, Fatty Burgers and Bones
Lots of fat and sodium can upset delicate pet tummies, so avoid them or keep them at a minimum. We know feeding your dog bones is ingrained in our culture, but it's a common misconception that this is safe for animals. Giving your pet leftover bones is very dangerous. Bones, particularly cooked ones, are prone to splinter and harm your pet's internal organs.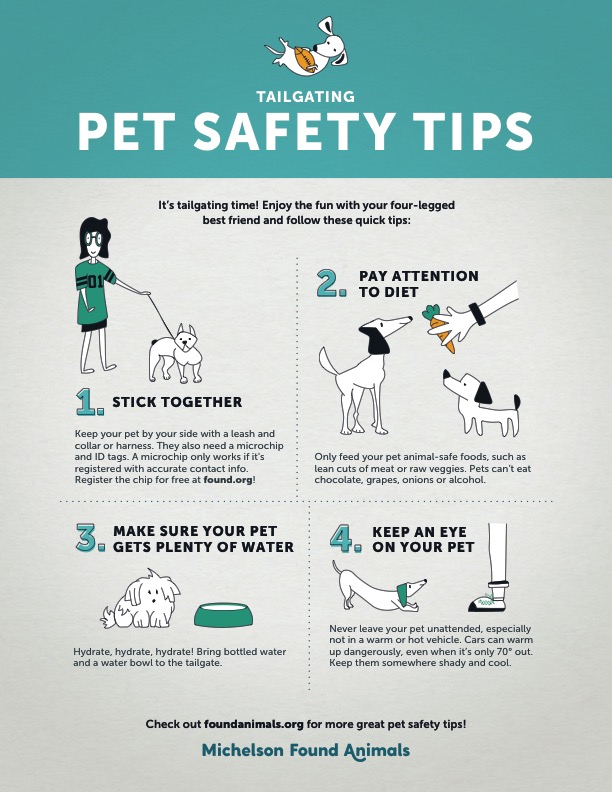 Related blog posts