FIDO Friendly Blog
FIDO Friendly magazine is proud to announce winning Best Dog Blog of the year 2011 as awarded by Dogtime Media. This is a huge honor for FIDO Friendly, bestowed by the largest vertical media community focused on pet owners.
December 05, 2018 • Travel • by Guest Writer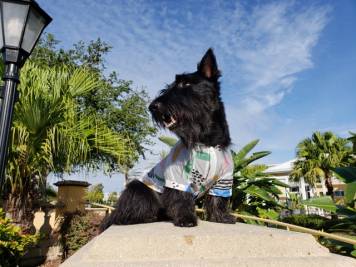 Late fall and winter are the perfect times to relax and get away—and no pup knows that better than pawsome doggie blogger Hamilton Barkley of Hami in Miami.
In fact, Hamilton is returning with his humans on another amazing trip to Orlando. Last year, while his people visited the local theme parks, Hamilton enjoyed his very own vacation. And according to him, the Wyndham makes it easy for other...
Related Blog Posts
Recent Blog Posts
February 14, 2019 • Health & Wellness

Brushing pets' teeth can eliminate doggy breath kisses and keep them healthy for many more Valentine's Days

In addition to Valentine's Day, February is a time to celebrate National Pet Dental Health Month​, sponsored annually by the American Veterinary Medical Association (AVMA). Far from being simply a cosmetic issue or a cause of bad breath, oral disease in pets can cause receding gums, tooth...