FIDO Friendly Blog
FIDO Friendly magazine is proud to announce winning Best Dog Blog of the year 2011 as awarded by Dogtime Media. This is a huge honor for FIDO Friendly, bestowed by the largest vertical media community focused on pet owners.
November 21, 2017 • Travel • Health & Wellness • by Susan Sims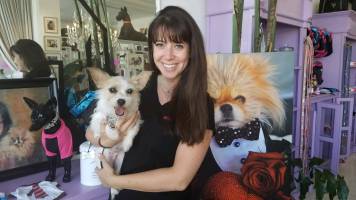 When You Book The Urban Spa Getaway For Pooch And You Package, You Are In For A Treat.
Girls just gotta spa when staying at The Orlando Hotel, as proven by the smile on FIDO Friendly's very own Honey's face with her stylist at Vanderpuffs for her day of beauty. Photo Credit: SusanSims
Recently adopted Jack Russell/Chihuahua mix Honey, hit the jackpot when recently visiting The Orlando Hotel...
Related Blog Posts
Recent Blog Posts
December 11, 2017 • Health & Wellness • Rescue • by Penny Eims

In Elk Rapids, Michigan, homeless dogs who are in the twilight of their life may be fortunate enough to wind up in the care of the Silver Muzzle Cottage – the only dog hospice care facility in the state, and one of the few in the nation. Two years ago, Kim Skarritt founded the rescue and hospice program after encountering a large number of aging dogs who had been abandoned, for one reason or...