FIDO Friendly Blog
FIDO Friendly magazine is proud to announce winning Best Dog Blog of the year 2011 as awarded by Dogtime Media. This is a huge honor for FIDO Friendly, bestowed by the largest vertical media community focused on pet owners.
November 21, 2017 • Travel • Health & Wellness • by Susan Sims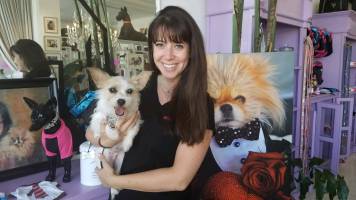 When You Book The Urban Spa Getaway For Pooch And You Package, You Are In For A Treat.
Girls just gotta spa when staying at The Orlando Hotel, as proven by the smile on FIDO Friendly's very own Honey's face with her stylist at Vanderpuffs for her day of beauty. Photo Credit: SusanSims
Recently adopted Jack Russell/Chihuahua mix Honey, hit the jackpot when recently visiting The Orlando Hotel...
Related Blog Posts
Recent Blog Posts
November 21, 2017 • Health & Wellness • Product Reviews

FIDO loves that we are partnered with Petcurean and we are always eager to try their new products and share our experience with you!

Petcurean is an independent, Canadian-owned family business that's been around since 1999. They pride themselves on creating recipes with passion and purpose, recipes that nobody has thought of making. When it comes to ingredients, their motto is only the best of...