BARKING BOARDERS RETURN TO DOG BEACH!
June 20, 2018 • Trends • Most Popular
Canine SurFURs and Stand-Up Paddle Boarders Splash into Summer Surf Class this July…
While it's no strange sight to see first-time surfers take to the waves along the Southern California coast in summer surf camps, visitors to Del Mar North Beach may be doing a double-take. The beginning of summer at the dog-friendly beach also signals the return of the annual furry surf school – Helen Woodward Animal Center's annual Dog Surf and SUP Lessons! The highly-anticipated classes are taught by beloved local group SoCal Surf Dogs with opportunities to join in all summer long. Originally offered to prepare beach-loving pups for the Center's Annual "Surf Dog Surf-A-Thon," scheduled for Sunday, September 9th this year, the lessons have expanded to accommodate pros and beginners alike. The lessons kick off at 8:30am on Sunday, July 8th at Del Mar Dog Beach.
The summertime surf classes will feature expert instruction from legendary leaders of the pack – the SoCal Surf Dogs – teaching basic and advanced surFUR techniques. Classes are great for dogs and their owners at any experience level. Those more inclined to the calmer seas may choose to enroll in stand-up paddleboarding, with SoCal SUP Dogs leading the instruction. SUP classes will take place in the Del Mar Dog Beach Channel at the 8:30am timeslot when the waters are most mellow.
"This is a great activity for water-loving dogs to try out with their families," said Jessica Gercke, PR Director at Helen Woodward Animal Center. "If your dog is already a "beach dog", they may love the sport, and it can be a great bonding experience between pups and owners. Of course, if your dog tries it and isn't having a blast, you can head right back to dry land for more traditional beach romping. It's all about safety and fun in the sun!"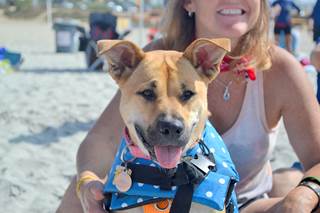 Helen Woodward Animal Center Surf Dog lessons offer limited spaces in each class to maximize safety and fun, so spots fill up quickly. Surf classes run 50 minutes in length and Paddleboarding classes run 70 minutes in length, each take place mostly in the water with brief on-land instruction at the start. All classes cost $45 with a 20% discount offered off any additional lessons, and include use of the required canine life-vests and surf or paddle boards. Lessons are scheduled at 8:30am (Stand-Up Paddleboard only), 10:00am, 11:00am and 12:00noon on July 8th, July 22nd, and August 12th, and 26th.
Dogs who take to the waves are encouraged to register for Helen Woodward Animal Center's 13th Annual Surf Dog Surf-A-Thon on Sept. 9th, 2018. All proceeds from the classes and the annual competition go towards the animals and programs at Helen Woodward Animal Center.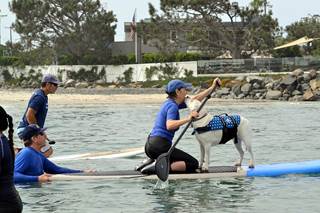 For more information, questions or to register, go to animalcenter.org or call (858) 756-4117 x 350. You may also stop by Helen Woodward Animal Center at 6523 Helen Woodward Way, in Rancho Santa Fe.
Related blog posts