Fetch for Pets Brings Arm & Hammer to the Dog Bath
March 09, 2018 • At Home • Health & Wellness
Bath time just got sweeter (smelling) for FIDO!
Fetch for Pets is launching a line of Arm & Hammer pet grooming products including Oatmeal Shampoo, Tearless Puppy Shampoo, Deodorizing Shampoo and Spray, and Dry Shampoo which come in fun, exotic scents like vanilla coconut, coconut water, kiwi blossom and blood orange. The safe & effective ARM & HAMMER formulas include the signature, odor absorbing ingredient, baking soda, that's been used to clean and deodorize for over 100 years. There's no better way to keep your furry family member a clean one.
The grooming line follows the success of Arm & Hammer pet dental care that's been available at Pet Specialty retailers since 2010. "Arm & Hammer is a household name that is synonymous with all things clean, so it makes perfect sense, after years of success in pet dental care, to transition to pet grooming", said Fetch President & CEO, Steven Shweky.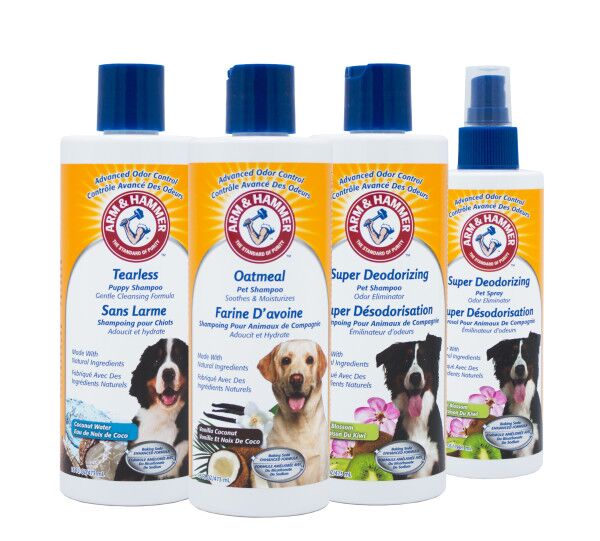 Arm and Hammer pet grooming products range in price from $3.99 to $5.99 and will be available for distribution across all channels in the United States & Canada as well as in select international territories in April 2018. Arm & Hammer is a household name that spans across of variety of consumer categories including dental care, personal care, air care, laundry care and more. Consumers already use baking soda for a variety of at home cleaning remedies and now they can offer the same trusted solution to their pets grooming routine.
Click here to learn more about Arm & Hammer Grooming
Fetch for Pets is a leading pet product manufacturer dedicated to bringing major global brands to the pet industry. We develop cross category pet product lines based on retail and market demand as well as industry trends. Fetch has launched thousands of products with strategic licensing partners under brands including Burt's Bees, Arm & Hammer, Shout!, CHI, BioSilk, Glad, Fresh Step and more. Fetch also provides private label development and manufacturing for top retailers including Target, Walmart, PetSmart, Petco, Meijer and Walgreens. Working closely with retailers, brand teams and factories, our team builds cutting edge programs that raise the bar on quality, value and innovation.
Related blog posts