FIDO Likes Turkey Too - Taking a Tasty Test Drive With Petcurean's NOW FRESH Stew Recipes
November 21, 2017 • Health & Wellness • Product Reviews
FIDO loves that we are partnered with Petcurean and we are always eager to try their new products and share our experience with you!

Petcurean is an independent, Canadian-owned family business that's been around since 1999. They pride themselves on creating recipes with passion and purpose, recipes that nobody has thought of making. When it comes to ingredients, their motto is only the best of the best will do. Their trusted network of farmers, ranchers and producers provide them with a consistent source of healthy, premium quality market-fresh meats, veggies, fruits and berries. They cook with creativity, energy and an overarching love for our cats and dogs. Then, with the Petcurean seal of approval, their food goes out to be enjoyed by pets the world over.

Petcurean products are sold exclusively through pet specialty stores. They invest time and resources into educating their partners at pet specialty stores about the nutritional needs of dogs and cats, food intolerances and sensitivities, and pet food ingredients. FIDO likes that!

Social Media Director Ali Kochie and her FIDO Dewey, an 12 year old Aussie Shepherd rescue, were already fans of Petcurean, (Dewey is partial to NOW FRESH - Grain Free Senior Dog Food Recipe), so they were definitely up for taste testing the NEW NOW FRESH stew and pâté recipes
Like all the yummy and healthy options Petcurean offers, their new NOW FRESH stews and pâtés are perfect served as a treat, topper, or as a complete and balanced meal. They and are available in six delicious recipes: turkey stew for dogs and cats, pork stew for dogs, wild salmon stew for cats, pork pâté for cats and wild salmon pâté for cats. All recipes are non-GMO and made in a human-grade facility with human-grade ingredients including 100 percent fresh wild salmon, turkey or pork, and fresh potatoes, carrots, peas, cranberries, sweet potatoes, and apples - all excellent sources of antioxidants, essential vitamins and minerals and dietary fiber to support digestive health. NOW FRESH stews and pâtés are made with turkey bone broth, which adds a great source of collagen and a meaty flavor that both dogs and cats love. Other recipe highlights include:
Omega 3 & 6 oils from coconuts and canola to promote skin and coat health
Flaxseed, an excellent source of dietary fibre and essential omega 3 & 6 fatty acids
Dried kelp, a natural source of iodine, dietary fibre, vitamins, and minerals
Zero grains, gluten, wheat, beef, chicken, corn, or soy
Zero rendered meats, by-products, added growth hormones or artificial preservatives
We got our two tester soft containers and were ready to go. Dewey, as always, was very interested in seeing new dog food (!) and more than ready to start our evaluation!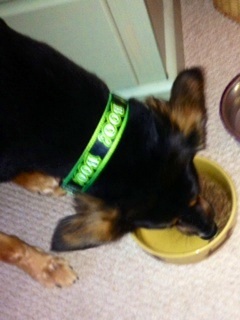 Based on our vets suggestion, we gave Dewey smaller portions of the stew, mixed in with her current dog food throughout the day. She was onboard and loving this new food option from her first taste, as you can see below. She had no tummy issues and was full of energy and playing ball daily. Dewey and FIDO definitely gives Petcurean's new stew and pate two paws up!
For more information and to get a coupon to try Petcurean food with your FIDO, click here.
FIDO Friendly is proud to be a Petcurean Blogger Adovocate
Related blog posts