Pawplexer - The Solution to Make Treats Last Longer & Not Stink
August 22, 2018 • At Home • Product Reviews
Ever wished you could make those expensive treats last longer? Prefer not to have bully stick stink rubbed all over your carpet? Us too!
What makes the Pawplexer unique is the rubberized center portion that is perfect for holding a bully stick, jerky, or your dog's favorite treat.
Made in the USA using the same high-quality ingredients as the rest of the Benebone family, the Pawplexer can hold its own as a chew toy but doubles as a way to challenge the noggins' of the craftier dogs out there.
The best part about the Pawplexer is its versatility. There are many chew options that you can insert into the Pawplexer. As shown below, we recommend bully sticks that are spiral and circular in shape to give your dog's mind as much exercise as his/her mouth. Other options include: chicken's feet, straight bully sticks, braided bully sticks, etc. The possibilities are endless.
What are the Pawplexer sizes?
Currently, the Pawplexer is available in 2 sizes: small and large. In the future, we hope to introduce a mini Pawplexer for the tiny dogs. However, we often see tiny dogs going to town on our regular sized Benebones. Since you can control the size of the chew you insert into the Pawplexer, this new chew will make any sized dog a happy dog.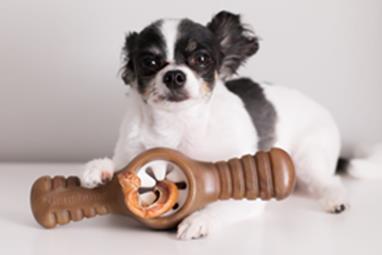 The Pawplexer was thoughtfully designed to provide even more interactive fun for your dog.
Benebone is an American small family business, producing top-quality dog chews.
· Made in the USA – Because home is the best place to ensure quality, our manufacturing, design, material and ingredient sourcing, design work, and tooling are all in the USA. We are committed to supporting American small businesses.
· Honest Products – We believe in simple, honest products. So, materials and ingredients are clear. Our nylon chews have only 100% real food ingredients, such as bacon, chicken or peanuts.
· Form Follows Function – Dogs don't have thumbs, so our products tend to be irregular in shape, ergonomic, and in almost constant motion. Interaction and challenge makes for a happier pup.
· Helping Dogs in Need – We are fully committed to the welfare of dogs through product donations and community involvement.
· Satisfaction, Guaranteed – We believe in the lost art of customer service. We listen to every customer, and personally respond to every compliment, complaint, and request for assistance. We guarantee satisfaction to every customer.
Available on Chewy.com, Amazon.com and independent pet retailers – priced under $40.
Related blog posts