PureLUXE Pet Food is Formulated To Provide Elite Nutrition For Millennial Pet Parents
September 19, 2018 • Health & Wellness • Product Reviews
Made in America's heartland with farm-to-table fresh flavor, PureLUXE combines a special blend of ethically sourced and hand-selected micro-nutrients. The food uses targeted, holistic nutrition to meet the special needs of the "citi-fied" pet and the concerns of their millennial pet parents … who want an elite food for their pet children.
Around the world there are millions of dogs who live in a "citi-fied" urban environment with their concerned millennial pet parents who only want to feed their dog the best. City life can mean limited space and opportunities to let pets run and play. This in turn can lead to other problems such as eating out of boredom which can lead to obesity. With this "citif-ied" lifestyle in mind, PureLUXE has formulated a line of grain free dry pet foods made with the finest ethically sourced ingredients and micro-nutrients to provide sustainable energy, immune support, healthy skin and a beautiful coat.
"We are in the business of making a luxury, gourmet pet food for 'citi-fied' animals and their millennial parents who treat their fur babies like human children," says Pat Mendicki, Vice President of Sales and Business Development for PureLUXE Pet Foods. "Our number one ingredient in each of our diets is either fresh turkey, lamb or salmon all naturally preserved. You won't find any corn, wheat, by-products or unethically sourced ingredients. This is elite nutrition that provides luxurious results for the most pampered pets."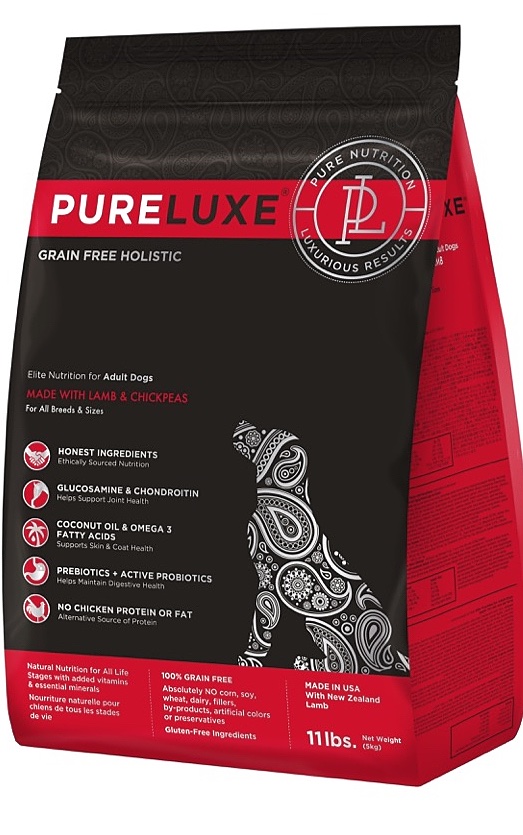 PureLUXE is designed for indoor, "citi-fied" pets, who like children .. may have food sensitivities. It features grain free, low glycemic and non-glutenous ingredients. Specifically avoiding the use of chicken meal, the number one ingredient in PureLUXE food is fresh turkey, lamb or salmon along with double the omega three fatty acids and a proprietary blend of micro-nutrients including coconut oil, cranberries, taurine, L-carnitine, pre-biotics, active pro-biotics, and kelp.
PureLUXE pet foods support the body on a cellular level in order to provide luxurious results represented by the visible health of a pet's eyes, skin, nails, coat/fur and stool. The PureLUXE formula can also help reduce stress and anxiety associated with indoor, citified pets who often are susceptible to loud noises and separation anxiety.
PureLUXE for dogs comes in six specifically formulated diets.
The first is the Elite Adult Turkey Dog formula. This is a great tasting, nutritionally satisfying diet for adult dogs that want to be in peak condition whether they are lounging on the sofa or jogging with their owner. Four lbs. bag (MSRP of $21.00) and 24 lbs. bag (MSRP $70.00).
The Elite Adult Lamb and Chickpeas Dog formula is for dogs that have sensitivities to specific proteins or glutens. This hypo-allergenic formula is for dogs who do well on a lamb based diet, but cannot intake chicken, beef, wheat, soy or corn. Four lbs. bag (MSRP $23.00) and 24 lbs. bag (MSRP $75.00).
The Elite Adult Salmon and Split Peas formula is an alternative to chicken, beef or lamb based diets. It contains all the same nutrition as the other adult formulas and is sure to please pets with its palatable yet superior ingredients. Four lbs. bag (MSRP $23.00) and 24 lbs. bag (MSRP $75.00).
The Elite Healthy Weight with Turkey, Salmon and Lentils formula is designed for senior, less active or overweight dogs. This calorie focused formula will support the nutritional needs of a dog while providing a very tasty meal. Four lbs. bag (MSRP $23.00) and 24 lbs. (MSRP $75.00).
The Elite Small Breed Dog Formula also offered with mini kibble, is made with turkey, split peas and salmon and is geared for the specific needs of dogs with smaller frames than medium or large sized dogs. Four lb. bag (MSRP $21.00) and 11 lb. bag (MSRP $40.00).
At PureLUXE, transparency and ethics are number one. With all the recent pet food recalls because of toxic food ingredients and unethical manufacturing processes, PureLUXE strives to gain pet owners' trust and confidence by producing an elite dog food made with the finest ingredients.
"We feel so strongly about this trust that if a customer buys our food they can go to our website, plug in their bag of PureLUXE's production code and we will send you a detailed report about the nutritional value of the food you are feeding your dog that day," said Mendicki. "Elite Nutrition is more than just saying what's in the bag … it should be verified and proven. PureLUXE is a gourmet pet food of the highest quality and is the perfect food for your privileged, "citi-fied" pet."
For more information about PureLUXE and its full line of pet foods please visit the website at https://www.PureLUXEpetfood.com.
E.A.T.™ PureLUXE (Ethical, Accountable and Transparent)
Related blog posts