Senior Dog Inspires $35K in Grants for Baltimore Shelter
December 22, 2017 • Health & Wellness • Rescue
This story of a senior dog who won a $10K grant for a Baltimore Shelter (BARCS) and then only weeks ago just won another $25K (grand prize - announced today) in the Petco Foundation Holiday Wishes People's Choice Awards, will warm your heart this holiday season.
Kaylee, an American Staffordshire terrier was adopted from a Baltimore Shelter at 11 years of age at the request of a 9-year-old child named Raven -- "to adopt the oldest dog in the shelter." The family agreed and after adopting her they discovered she had cancer with a prognosis of only 2 months. Therefore the family set out to create Kaylee's Bucket List to give her the best life ever. Kaylee has since passed her 2 month mark and doesn't seem to be slowing down. Kaylee inspired Raven's mom, Melissa Davis, to submit this essay to the Petco Foundation Holiday Wishes.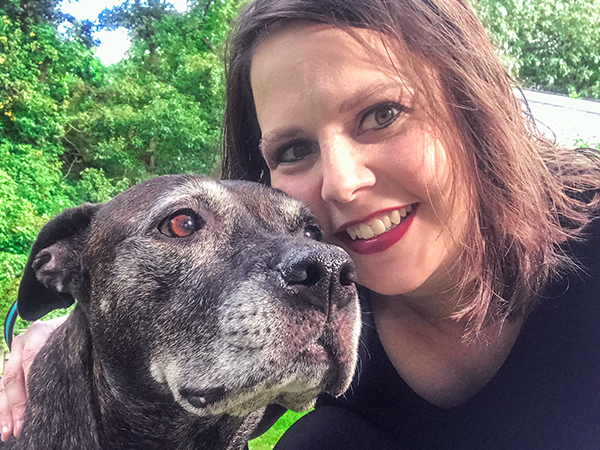 "I want to adopt an old dog," Raven, my nine-year-old, said. "One that no one else wants."
"That's very kind of you," I said, "But when you adopt an old dog, you don't know how long you'll have them. They could live for years or months or only weeks."
"I know,"the child said. "But I don't want them to die in the shelter. They don't deserve to die alone."
Having no argument to that logic, we set off to BARCS Animal Shelter in Baltimore and asked to see their oldest dog. Kaylee had been there for three weeks in a place that usually sees dogs adopted pretty quickly. When they brought her out to meet us, she leaned into my chest and I knew she was ours.
But despite the excellent care from BARCS, Kaylee wasn't a healthy dog. Her owners surrendered her when they could no longer afford the care for her torn CCL, early kidney disease, and what they thought was a urinary tract infection. She was a fixer-upper, you could say, but Raven was right: she deserved a home. We took her to ours the next day and scheduled an appointment with our vet.
After two weeks of extensive testing, we learned that Kaylee has metastatic thyroid carcinoma. By the time we adopted her it had already spread to her lungs, and it would be terminal. And while I can't say we fixed her up and she's healthy, I can say she is getting her happily ever after.
Kaylee has taught us so much in the few months she's been with us. She loves with her whole heart in a way that is just incredible. Every person she meets is her new friend, and she happily accepts love and pats. Despite being surrendered by her previous owner, she trusts us fully. She fills our house with happiness with her smiles, butt wags, and insistence that she have ALL the belly rubs.
My children have learned compassion in a way I've never dreamed possible. They happily gave up a vacation to Disney World because we needed the money to pay for Kaylee's care. They told me, "That's ok. We wouldn't want to go without her anyway."
On top of the joy she's brought to our home, Kaylee has reminded us of the good in the world. We created a bucket list for her to ensure the end of her life is the best part of it, and through that we've connected with so many incredible, giving, kind people. She's developed a following around the world and has shown others the immense value in adopting senior pets.
We thought we were rescuing Kaylee that day, but as it turns out, she was rescuing us. We didn't know what we were missing until she was here.
We will love her for the rest of her life and every day after.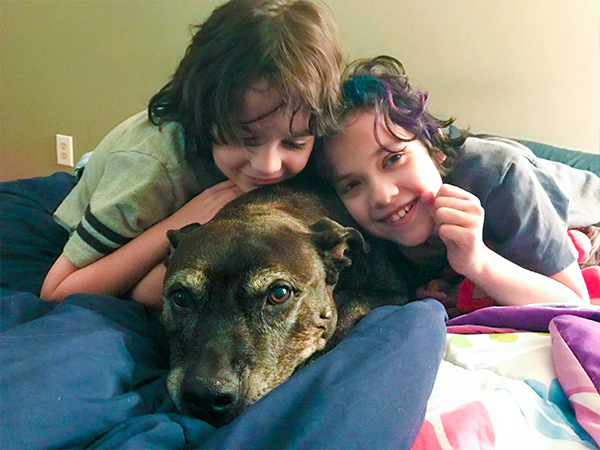 Each year, the Petco Foundation invites adopters to share the story of how their adopted pet changed their lives during the annual Holiday Wishes campaign, giving the organization that they adopted from a chance to receive a grant award. This story by Melissa Davis won BARCS Animal Shelter in Maryland a 2017 Holiday Wishes award.
For more information on the Petco Foundation Holiday Wishes please visit HERE
Related blog posts