Silver Muzzle Cottage – a Safe Haven for Homeless Dogs in the Twilight of Their Life
December 11, 2017 • Health & Wellness • Rescue • by Penny Eims
In Elk Rapids, Michigan, homeless dogs who are in the twilight of their life may be fortunate enough to wind up in the care of the Silver Muzzle Cottage – the only dog hospice care facility in the state, and one of the few in the nation. Two years ago, Kim Skarritt founded the rescue and hospice program after encountering a large number of aging dogs who had been abandoned, for one reason or another, by their owners.
Skarritt's hospice program provides for elderly dogs who have lost their home because an owner died, moved to a nursing home, or even because someone decided that they no longer wanted to care for their aging pet. After seeing "too many" elderly dogs in shelters, Skarritt was motivated to open a facility where these cast-offs of society could spend the twilight of their life receiving the love and care that they not only needed, but deserved. She explained, "We just do not want to see them die alone in a shelter."
The Silver Muzzle Cottage is located inside of a large warehouse space next door to Bowsers by the Bay, a premiere cage-free fitness and social rehabilitation center for dogs, which is also owned by Skarritt. When Skarritt created the canine hospice center, she aimed to make it feel like a home – from couches and end tables, to throw pillows and decorations. Skarritt told FIDO Friendly, "To be honest, the décor was more for the volunteers who are like family to our dogs. I wanted the space to be a place that people would want to hang out in. But I believe that the warmth of the environment does play a part in each dog's comfort level." She added, "they don't necessarily care if there is a fireplace or decorations, but they know and appreciate the difference between a cinder block wall kennel and a room with a bunch of fluffy dog beds."
Canine residents of the Silver Muzzle Cottage do not live in cages, even at night…and they are never alone because Skarritt calls the hospice cottage home herself. She even has her own specially designed area to sleep in.
Dogs at the hospice center receive care and attention from Skarritt, as well as from dozens of kind-hearted volunteers who not only tend to their needs but also spend quality time snuggling. Finding people to volunteer their time to spend with the dogs has never really been an issue. Skarritt told FIDO Friendly, "Everyone loves being with the dogs. We often get people that travel a great distance just to see the facility and help with the dogs." However, finding volunteers for the administrative side of things has proven to be "challenging."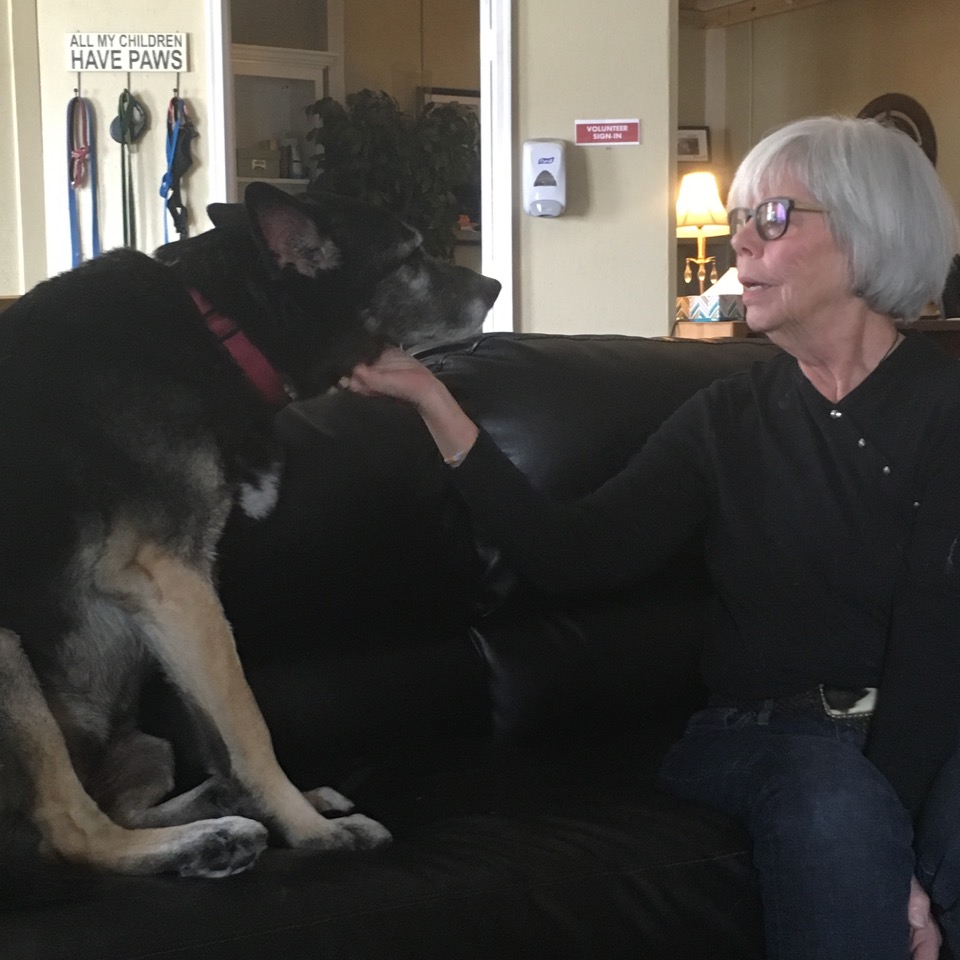 Photo credits: Kim Skarritt
Despite the advanced age of the dogs, many are actually adopted from the hospice center into new homes, thanks in large part to the social media networking efforts on the Silver Muzzle Cottage Facebook page. For those who don't get adopted, there is no shortage of unconditional love for each and every resident of the hospice center. Skarritt and her volunteers have one mission – to ensure that each Silver Muzzle Cottage dog enjoys an amazing life – whether it is for two days, two weeks, or two years. Skaritt said, "they know that when they left this world, they mattered to somebody."
Committing one's life to dogs who are at the end of their own can be emotionally taxing, but the experience has taught Skarritt to "live in the moment." She explained, "I try not to focus on the limited time I'll have with them, and to stay focused on the aspect that we are, in some cases, changing the dog's perception of humans and the world around them. I feel that we are blessed and honored to be given the opportunity to be there for them when it is their time to cross over."
She added, "I see it as our final and most important gift to them. The comfort that comes with knowing the dog didn't have to suffer, and that they left this world knowing that they were loved surpasses the heartache of losing them."
When asked to provide final thoughts about the homeless senior dog situation, Skarritt told FIDO Friendly, "Reducing the number of homeless senior dogs is partly impacted by economics; in many cases life happens and people don't have a choice in whether or not they keep their pets. But all too often, many of our rescues are simply abandoned and it's obvious that they never really had great care or love to begin with." She added, "THAT is the real problem and I continually try to shed light on that. The population of homeless senior dogs is a reflection of our humanity (or lack thereof), and many people are not aware of this."
For more information on Silver Muzzle Cottage visit:
https://www.facebook.com/silvermuzzlecottage/
Author Penny Eims is a Freelance writer who shares her love of dogs (and all animals!) on the Pet Rescue Report and Shelter Me TV.
Related blog posts