Want a Paw-fect Summer? Check Out These Expert Tips and Round-Up of Helpful Products
July 19, 2018 • Travel • Health & Wellness • by Guest Writer
Can't wait to get outside or hit the road with Fido? Have plans to explore the great outdoors or just enjoy your own backyard or pool? Whatever you do or wherever you go, make it a wonderful time by being prepared.
Here are a few tips and products that will ensure you and your pets have a safe and happy summertime.
Water Safety
Taking Fido along on your boat can be great fun, especially for water-loving dogs like labs. Ensuring your pet's safety is as easy as doing some preliminary training and following a few precautions. According to pet safety expert Arden Moore founder and instructor of Pet First Aid 4U, "All dogs joining you for a boating trip need to know how to swim and paddle wearing a dog life jacket and have successfully completed 'dog over board' maneuvers in which you practice training your dog to come to a designated spot near the boat and use a ladder or accept being "rescued" using a safety net." Moore says that you should, "Always make these training sessions' upbeat and heap on the treats." Training your dog to safely board and depart from your boat and or pool is worth the time. "Show them the right spots to enter/exit and take your time training them. Don't rush your pet or become impatient while teaching these potentially life-saving skills, it will pay big dividends, if your pet gets into trouble." Moore also cautions you to "supervise your dog while on board a boat and tether him, especially if you are moving at high speed". www.petfirstaid4u.com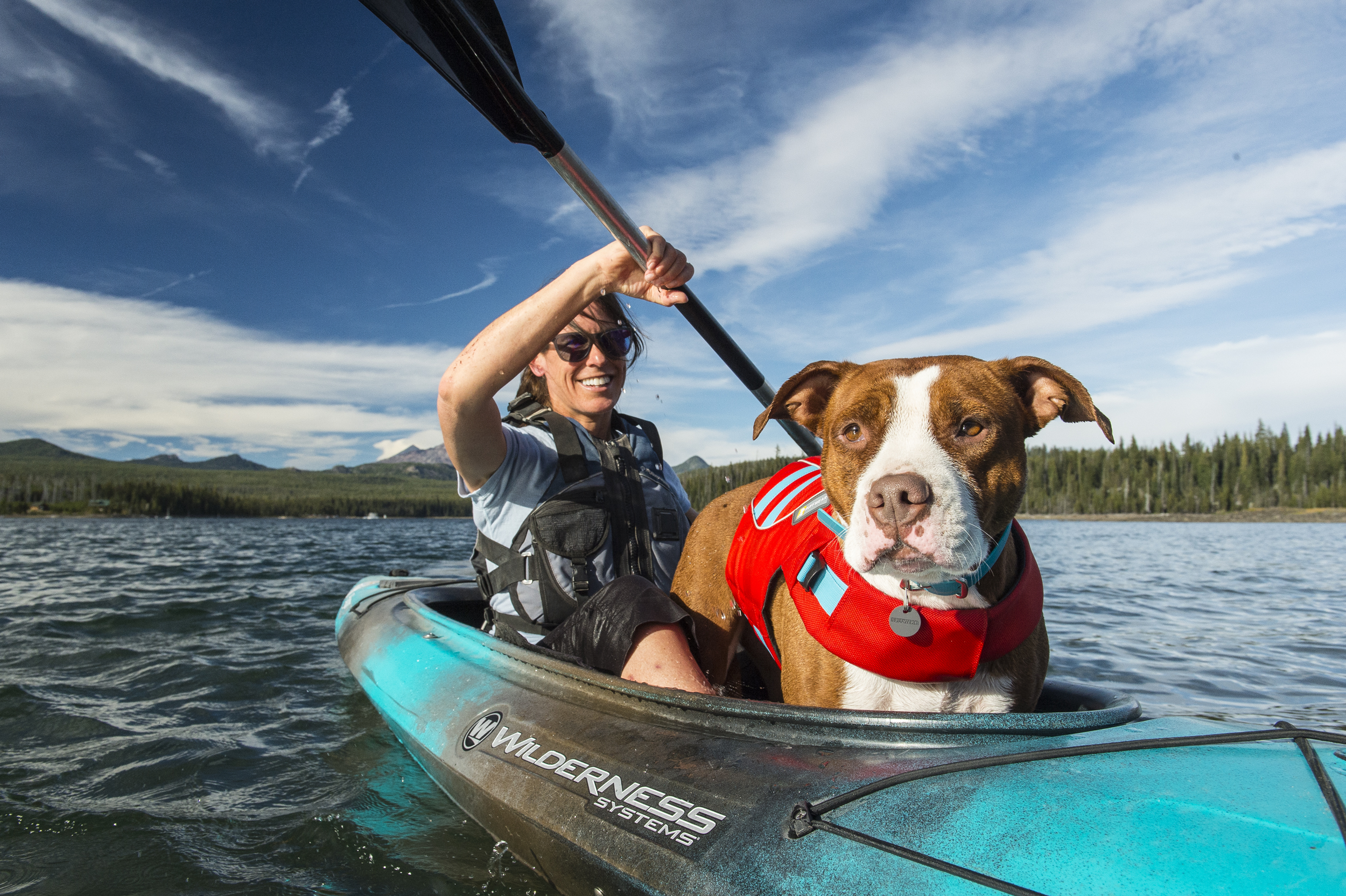 Teaching your dog water and boating safety will give you both peace of mind. Photo credit: Ruffwear
Dogs should also wear a life jacket while in water craft or on surfboards or paddleboards. A life jacket can keep a pet afloat if they fall into the water and are injured or knocked unconscious. A dog hit by an errant surfboard or other device can be unable to swim and can drown as a result. Ruffwear has a life vest that comes in sizes from xxSmall to xLarge and is well-made and comfortable for your pet. ruffwear.com
To help train your pet in boat/water safety, you can try Crazy Dog small bite size treats to maintain his attention. Recommended by thousands of professional dog trainers, these yummy bites are irresistible to your pooch. www.crazydog.com
Dr. Deborah Mandell, VMD, DACVECC advises, "If your pet loves to swim, watching him can be a lot of fun. However, there are still safety tips that should be followed. Monitor for signs that he or she may be getting exhausted- many dogs will keep swimming no matter what, so make sure you let them periodically rest. Make sure there is a place with shade for them to rest as well. If you go to the beach, look out for beach restrictions- not only the time of day dogs are allowed, but also areas where they are or are not allowed. This is for safety reasons. Always look at ocean reports to make sure the water is not too rough or choppy or has dangerous waves."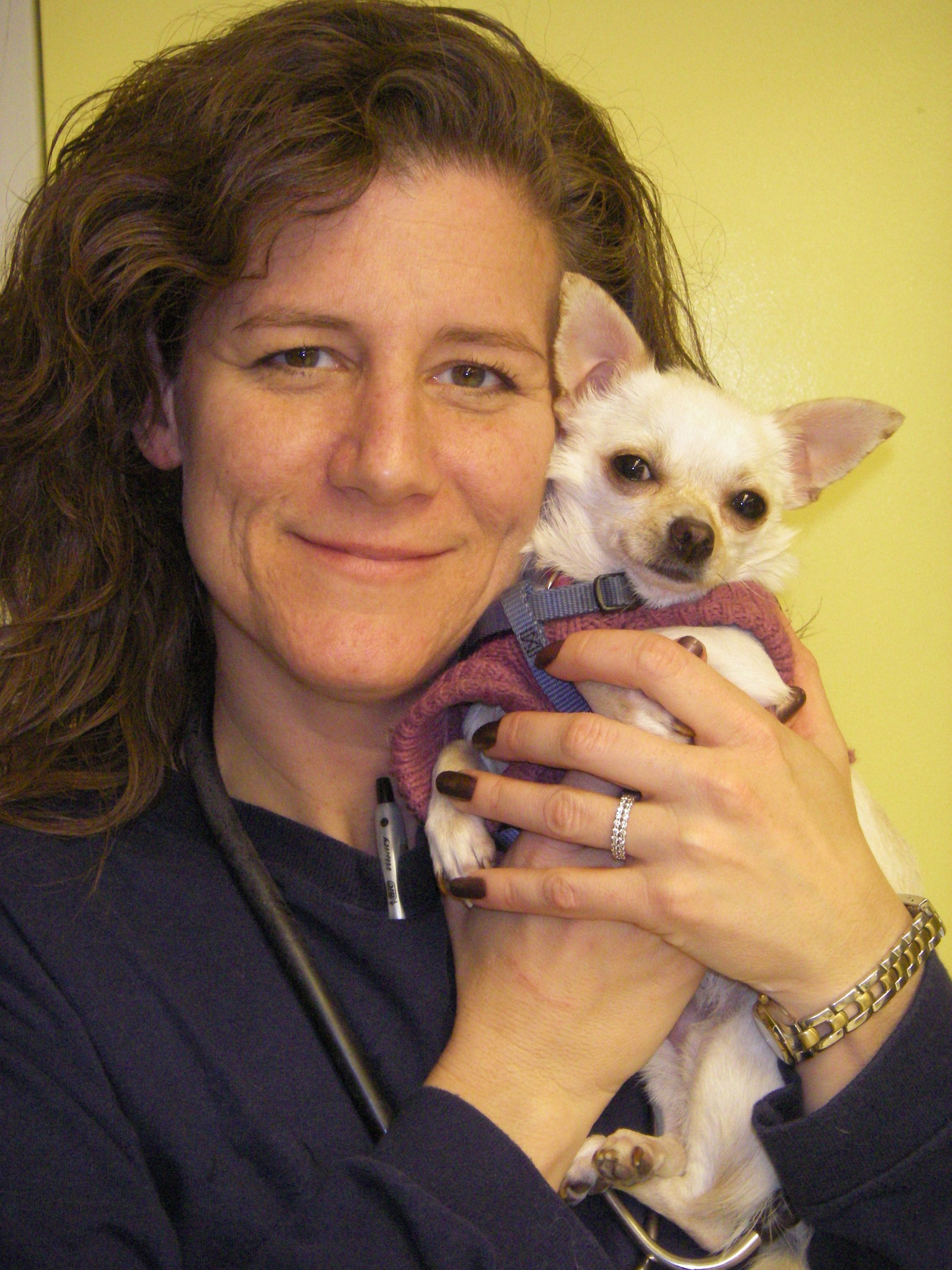 Dr. Mandell is a professor in ER and Critical Care Medicine and is a pet safety advisor for the Red Cross. Photo credit: Dr. D. Mandell
On the Road Again
If spending time in your RV or SUV crisscrossing the country is your idea of summer fun, the following items can make the trip more pleasant.
Some pets love to travel, others not so much. If you have a reluctant traveler, try using some Rescue Remedy before you hit the road. Made in England for over 80 years, this safe botanically based formula helps ease your pet's anxieties. www.rescueremedy.com
The Yummy travel bowl is a pet owner's best friend. A three-in-one bowl that holds water, serves as a food bowl and has a tight lid that makes it spill-proof, it is a must have for car, RV, or plane trips. For quick trips to the local park or pool, use the convenient collapsible Petmate Silicone Round Travel Pet's Bowl. To keep your pal safe on the road or in the air, sleepypod's mobile pet bed is a bed, carrier, and car seat, all in one. The bed is also crash tested at a standard set for child safety restraints, making your pet as safe as possible. sleepypod.com www.petmate.com
Does your vehicle or RV look like a Wookie exploded inside it? Try using the Kurgo car and truck seat covers and hammocks. Made to fit everything from bucket seats to large truck/SUV's back seat, these covers make it easy to keep the mess under control. To help with your pet's shedding, you can use the Shed Defender, an ingenious onsie for your dog that they can wear both indoors and out to keep shedding to a minimum. The garment can also protect your pet while outdoors by preventing ticks, burrs, and bugs from settling into their fur. Regular grooming with the HandsOn Gloves can help too. These #1 ranked gloves are a must for a clean and happy dog. www.kurgo.com sheddefender.com handsongloves.com
Wondering how you are going to get Fido safely into the RV, truck, or into your vacation condo this summer…no worries, PetSafe's pet ramps will help your friend climb into any vehicle, grooming table, short flights of stairs, etc. and is especially good for pets with mobility problems like arthritis. petsafe.net/travel
Exploring new territory can get Fido excited and that exuberance is hard on the neck and throat if wearing a traditional collar and leash. If your pet is constantly pulling and straining when you encounter new situations, you might try the Buddy Belt system. An innovative harness that is easier to use than traditional types, Buddy Belts offer both comfort for your pal and control for you, without undue strain on your pet. buddy-belts.com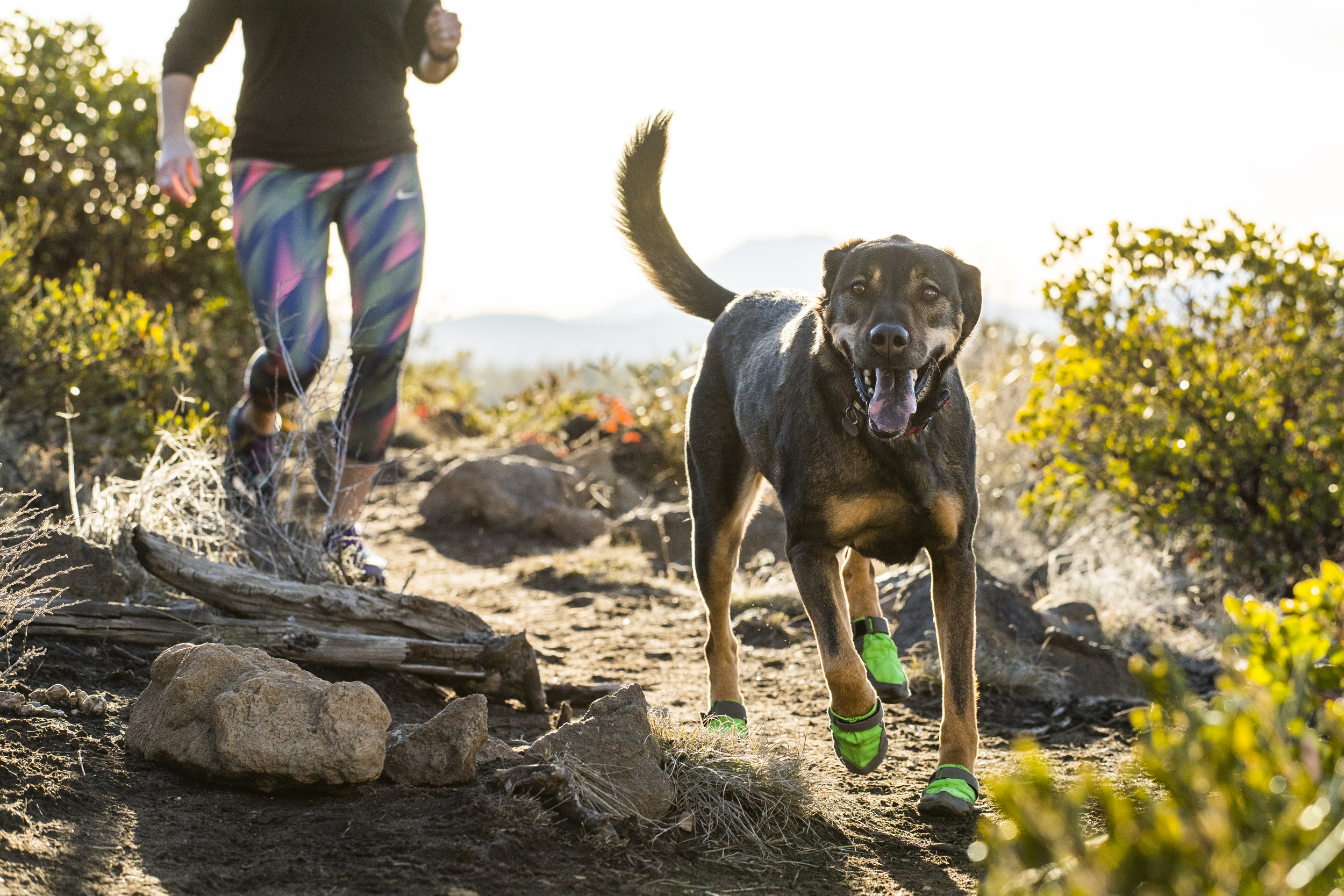 Running the trails can be a great bonding time, but be sure to protect Fido's feet from rocks, hot sand, and other hazards. Photo credit: Ruffwear
Into the Wild
When you spend time outdoors, using good judgement and being prepared is important. Arden Moore, Pet Safety expert, advises, "Being outdoors more puts pets at risk for injuries, insect stings and overheating on hot days". Using common sense goes a long way in protecting your pets.
One of the best ways to give yourself a more serene summer is to safeguard your pet with the Help4Pets emergency tag. If your pet gets lost while traveling/camping, this can be a life-saver. The Help4Pets staff is on call 24/7 with alternate contact information and instructions in case of an emergency situation. If you are on a plane, in a movie, or in the middle of nowhere without cell service, Help4Pets will take care of your pet. They will also replace the tags for free, if they are lost or damaged, even chewed. www.theemergencytag.com
Sunscreen is also an important item you should add to your summer safety kit. Dr. Mandell, veterinarian says, "There are dog specific sunscreens that should be used when going outdoors this summer. Places that have less or no fur are at risk- the nose, muzzle, ear tips and belly- should have sunscreen applied. Make sure it is dog approved sunscreen so you know it is safe for dogs. Never use sunscreen that has zinc oxide or PABA as these are toxic to dogs if ingested."
"Your dogs' paws and pads can get burnt on very hot sand, always check their paws after a trip to the beach for any burns or stuck objects (i.e. shells)." Dr. Mandell warns. Protecting your dog's feet from rocky trails and hot rough pavement is important too. Ruffwear has an array of outdoor gear to keep your pet safe whether on the beach or on the trail.
Want a doggie snack that won't get sticky in your pocket? Try Charlee Bear treats, they have a line called Bear Crunch that is grain-free with flavors like bacon/blueberry and at only 4 calories per treat, you can feel good about rewarding your friend with Charlee Bear treats. charleebear.com
If you own a small dog and enjoy spending time outdoors with your pet, it would be worthwhile to take a look at Michael Caruso's new invention, the Raptor Shield Vest. As people encroach on wildlife territory, encounters with birds of prey are on the rise. When these birds see your pet, they see a meal, not a beloved part of your family. The ingenious Raptor Shield is made of polycarbonate, the same material used in bullet proof windows. The vest is designed to make it impossible for the bird's talons to penetrate the shield and harm your dog. It can also help protect your pet against other animal attacks, buying them some time to escape before they are severely injured. The Raptor Shield Vest is designed to be comfortable for your pet year round. www.raptorshield.com
Summertime Safety Article shared by Guest Blogger Tamra Bolton
Related blog posts