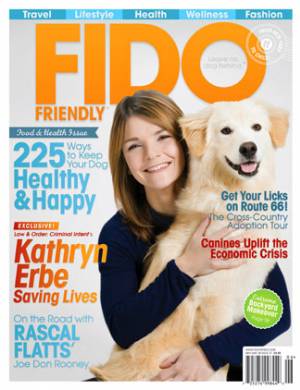 FEATURES
ALL DOLLED UP WITH SOMEWHERE TO GOCapturing the excitement and glamour of Westminster.
EAT, DRINK & BE HAPPYWhether it's purchasing quality food from the store or cooking at home, we want the very best for our canine companions.
COVER STORY: CANINE CRUSADERKathryn Erbe fights for justice, both onscreen and off.
LIFE IS A HIGHWAYWhen Rascal Flatts guitarist Joe Don Rooney and his former Playmate of the Year wife Tiffany Fallon hit the road, so do their dogs.
BACKYARD MAKEOVERSimple solutions for creating a space both you and Fido can enjoy.
PLAYA BLANCA PUPSOffering food—and love—to a stray family.
GUIDES
Health & SafetyCamping & HikingLifestylesTravel Guide
DEPARTMENTS
STOCK MARKET 'ANGELS'It's a dog day at NASDAQ—but in a good way.
THE DOC IS INIf your pup lacks pep, it could be his thyroid gland.
SHE YAPS/HE YAPSTwo of America's top trainers discuss what to do in a "dog-meet-dog" situation.
THE WHOLE PET DIETKeep Fido strong (and beautiful) with this cleansing diet supplement.
PET NUTRITIONWhere's the beef? What to look for in dry dog food.
HEALTH + WELLNESSPreparing your dog's food is worth it.
DIARY OF A DOG CHEFTo combine or not to combine dog food, that is the question.
AIR BUDJetBlue makes flying friendlier for dogs.
DESTINATIONS
EUREKA!Discovering the beauty of northwest Arkansas.
NIPPING AROUND NAPADogs may not drink the wine, but they're welcome throughout the valley.
OUT OF THIS WORLDJupiter Beach Resort offers a seaside getaway for you and your dog.
BEST OF THE WESTVisit the Grand Canyon while Fido is cared for at this RV resort.
I'LL TAKE MANHATTANPets are welcome at this upscale, hybrid hotel on NYC's Upper East Side.
From this issue