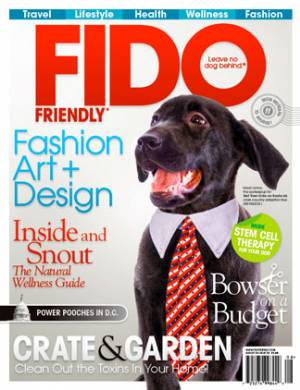 FEATURES
Bark is the New BlackFido-friendly fashions at FITNY.
Pet Fashion WeekOnce again, proving to be ahead of the pack.
Bowser on a BudgetEasy ways to s-t-r-e-t-c-h your budget without shortchanging Fido.
Patient Heal ThyselfStem cell therapy can help improve the quality of life for animals.
Can You Hear Me Now?Communicating with your canine.
Healing TouchProgram helps animals get healthy for adoption.
50 Heroes of ChaiténDisplaced by tragedy, local animals fight to survive with the help of dedicated volunteers.

THE ff DIRECTORY
ARTISTS GUIDE
NATURAL WELLNESS
LIFESTYLES
TRAVEL GUIDE
MARKETPLACE
Fashion art +designA review of some of the top fashions and home décor.
ON THE COVERPHOTOGRAPH BY ROBYN GLOVERWWW.ANIMALEXPRESSIONSPETPORTRAITS.COMTIE BY WWW.PETEYDESIGNS.COM
Junior is a 5-month-old black Lab cross found at an Idaho animal shelter when he was just two months. Publisher Susan Sims and husband Greg were smitten as soon as they saw his sweet face. Junior is the offi cial poster pup for the fi rst annual Get Your Licks on Route 66SM adoption tour, brought to you by FIDO Friendly and North Shore Animal League America. For more information on the event, visit www.GetYourLicks.org. MORE ON PAGE 32
FIDO DESTINATIONS
Travel NotesIt's easy for your dog to go "green" at Loews Hotels.
Southwest StyleTubac Golf Resort & Spa preserves history and pampers pooches.
Wine & Bitch at Paws Up Resort!37,000 acres of playground for you and your pup.
Power PoochesD.C. stands for "Dog Capitol" in Washington.
Tails from the TrailsSet your dog on the trail of old bones.
Borrego Springs EternalFido can find timeless elegance and modern amenities at this resort.
Smoky Gets in Your EyesThe mountain area offers beautiful scenery and fun attractions.
Ragin' CajunGet a taste of Louisiana in Madisonville.
Dogs in BrugesFido is beloved in beautiful Belgium.
Continental CozmoLife is sweet for this dog in Europe.
DEPARTMENTS
International Traveler of the MonthPack of five travels on two wheels.
Canine ConnectionWho is Buddy anyway? DNA testing for your mutt.
The Doc is InKeep a safe household for Fido by keeping these items out of reach.
How to Keep Cool during the Summer MonthsTips on keeping your pooch comfortable.
Training: He Yaps/She YapsTwo of America's top trainers discuss what to do in a "pick-up" game.
NEW DEPARTMENT! Crate & GardenIs your home making your dog sick?
On the SceneChic canines can find everything they need at the Bitch New York website.
My Business Has Gone to the DogsDogs inspire unique three-dimensional works from Alexander Art.
Best in ShowA Beagle's illness—and her doctor's care—motivates her guardian to make a difference.
Health+WellnessSeven budget solutions to caring for your pet and the environment.
Goodbye, ZoeyRemembering a life lived to the fullest.
From this issue