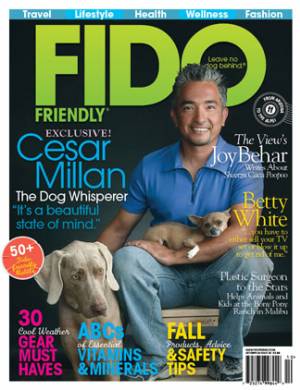 FEATURES
Bobaji: The Sidecar Dog'Neutered and Lovin' it Tour' promotes shelter pet adoptions.
COVER STORY
Cesar MillanExclusive interview with the Dog Whisperer who talks about working with Yale University and Mutt-i-grees™ to create a dog centered curriculum program for kids.
Cool Weather GearSome hot picks for you and FIDO to snuggle up to.
Joy BeharThe View's co-host has immortalized her dog Max in two children's books featuring Sheetzu Caca Poopoo.
Smoke SignalsA study suggest people would quit puffi ng for their pets.
Rest in PeaceA look at pet cemeteries across America.
Lost & FoundNew tools to help you search for a missing pet.
The Good DoctorDr. Frank Ryan may be a plastic surgeon to the stars, but he stays grounded helping animals and kids.
Jail House RockHomeless dogs get a permanent stay of execution under the watchful eye of Sheriff Joe.
Camp Bow WowEvery dog has its day at Camp Bow Wow in Boise, Idaho.
Toyota VenzaToyota debuts a Fido-friendly car.
Get Your Licks on Route 66Over 150 pets were adopted on the first annual Get Your Licks on Route 66 pet adoption tour.
Story of AmorLorraine Chittock's journey in Playa Blanca with her pack comes to a close.
Betty WhiteThe actress and animal-rights activist talks about her two passions.
GUIDES
Fall Gear GuideLifestyles Guide
FIDO DESTINATIONS
Island GetawayMackinac Island in Michigan does not allow cars but Fido can come along on a horse-drawn carriage ride.
Grand Traverse Resort & SpaNo dogs allowed! Instead, Fido has his own private digs at The Dog House—The Ultimate Dog RetreatSM.
Scottsdale, Arizon-ahhThe luxe Hyatt resort offers a grand experience for Fido and family.
Weekend Warrior New!Quick getaway travel tips to Vermont.
On the Maine LineThis state leads the way in Fido friendliness.
Hang 10 MoondoggiesHuntington Beach, CA offers Fido a sandy playground in Surf City, USA.
La QuintaThe posh resort is a desert oasis for people and their pets.
Two if by SeaEnjoy everything Newport, RI has to offer.
Looking Glass InnA local inn gives easy access to the beautiful Oregon coast.
RVing with FidoYosemite retreat features tent camping and a petting zoo.
European AdventuresYou and Fido can reach new heights on a trip to the German Alps.
Sweet ChateauChateau on the Lake Resort, Spa and Convention Center in Branson, MO is the ideal vacation featuring water sports and world-class cuisine.
DEPARTMENTS
International Dog TravelerA Thai Ridgeback serves as a personal security system.
The Doc is InHalloween candy poses a danger.
Training 101: He Yaps/She YapsTwo of America's top trainers discuss leashing the hounds.
Canine ConnectionBudget grooming Tips that will keep Fido looking great and feeling good.
Health & WellnessLearn some new tricks to care for your old dog.
Pet NutritionKnow all about the building blocks that keep Fido strong and healthy.
My Business Has Gone to the DogsJoy Pet Products gets down to business.
Crate & GardenTips from Moll Anderson, Designer to the Dogs.
From this issue