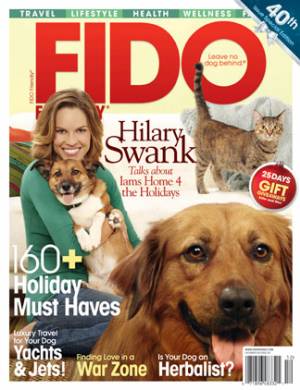 FEATURES
Slumber Party!Petiquette: The Etiquette of Doggy Sleepovers.
Gift Baskets of the StarsHollywoof reaches celebrities with goodie bags that include some great gifts.
Flying with FidoSherpa promises to get your pooch onboard with one of their approved carriers.
Hilary SwankCOVER STORYAcademy Award Winner, Hilary Swank, talks about her role as Ambassador with Iams Home 4 the Holidays.
Finding Love in a War ZoneA military woman gets transferred and demoted in rank to rescue her dog Ratchet from a war zone.
Grrrr-eat Dane!World's tallest dog leaves legacy of hope in fight against canine cancer.
In-Tune With Musician Brandon James BrandonJames has always loved animals; his passion is reflected in his devotion to his dog, Carter.
Focus, Click—AdoptProfessional pet photographer, Seth Casteel, aids in shelter adoptions.
What's in a Name?How do you pick a name for Fido? Try these creative suggestions.
Puppy Mill To Posh LifeAn Italian greyhound rescued from a commercial breeder is now living the high life.
Patagonian ParadiseIs this the end for Patagonian dogs?
DEPARTMENTS
Driving with FidoMany automakers are placing our pups as a priority in 2010.
Canine ConnectionDog Parks: the Good, the Bad and the Ugly.
Training 101: He Yaps, She YapsTwo of America's top trainers discuss unruly holiday houseguests.
The Doc Is InWhat to do with a coughing canine.
Health & WellnessIs your dog an herbalist?
Pet NutritionRaw food on the go.Food allergies
Crate & GardenOmmmmm for the Holidays.
My Business Has Gone To The DogsFIDO Friendly sits down with Pet Flys.
FIDO DESTINATIONS
Almalfi Chicago boutique hotel pampers your pooch.
Luxury Winter VacationsPrivate jets and Lamborghinis whisk pampered pooches to Florida.
12 Stays of ChristmasWhat dog doesn't love a luxurious escape to a resort with top-shelf amenities, fi ne dining, and stellar service?
Barkin' out West along the "Waggin' Trail"Scenic Travelogue with two Bernese Mountain Dogs.
Rocky Mountain HighFido will have a blast at the winter wonderland resorts of Steamboat Springs and Winter Park, Colorado.
New York City HotelsThree great Fido-friendly picks: Loews, Affi nia and Gansevoort.
Weekend WarriorThere's a great sense of adventure to spontaneously planning a weekend getaway. Destination: Aspen, Colorado.
RVing with FidoLoon Lake Lodge and RV Resort, Reedsport, Oregon.
Bermuda BoundWant a Fido-friendly island with pink beaches, a posh hotel that pampers pooches and has fairly easy entry restrictions for dogs? Bermuda is the place.
Island HotelYou and Fido will have a fi eld day on your daily stroll to the fabulous open-air mall, Fashion Island.
THE DIRECTORY
Holiday Must Haves Gift Guide!
From this issue