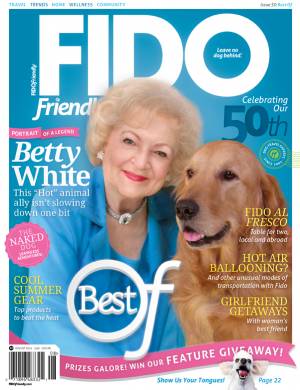 FEATURES
54 Feature Giveaway Our biggest contest bone-anza ever: Save a dog and win $1,500 in prizes!
56 Cover Story Dog lover and pop icon Betty White shares her golden secrets with wit and candor, "…I'm having a ball, and I love what I do."
60 Best Of We sniffed, scoured and pointed at the 50 best in Fido's universe.

TRAVEL
31 Day Trip Canine memories made in under 24 hours.
32 Off Track Non-traditional modes of transport take Fido to new heights.
34 The Naked Dog Celebrate leash-less adventures beach style.
36 Fido Al Fresco From waiters to waggers, high tail it to these canine-welcoming eateries.
38 Girlfriend Getaways One part girlfriends plus one part Fido equals one "fur-bulous" vacation.
40 Baltimore Inner Harbor Dogs hit a home run at the Hilton Baltimore.
42 Austin, Texas Saddle up, doggies, for a southern adventure at The Driskill.
44 Showboat Atlantic City All bets are on, as dogs get the red carpet boardwalk treatment.
46 California Coast: Part III Romacing the PCH.
48 Travel Tip How to travel with a fearful Fido.
50 Big Bear Cool Cabins Get your grizzly on at this sizzling California find.
52 Writing Contest Winner We asked, you wrote. Find out who won our first ever writing contest.

TRENDS
13 Best in Show "Wonder woman" of rescue gives dogs a place to bark.
14 Community Get ready to wag that tail as we introduce some of our Fido fur-ends and fans.
16 Leave No Dog Offline™ Social media roars with our standout Facebook and Twitter followers.
20 The Parlor Find it, sniff it, unearth it in our activity center.
22 FIDO Expo Our parade of dog tongues continues with this special 50th issue photo exposé.
26 Canine Connection Human consumption with Fido in mind.
28 Media Hound Lead reads and must-have media.

HOME
71 Table For Two Chef Jordi Farrès toasts for both.
74 Crate & Garden From Mother Nature's garden to Fido's feed bowl.
75 Adoption Story Nation adopts Patrick the pitbull.
76 Bowser on a Budget Hotels with travel deals during the dog days of summer.
77 He Yaps/She Yaps Nip a biter.

WELLNESS
79 The Glossary Vet behind the ears?
80 Psychology Restoring human bonds with animal traits Leashes and Lovers style.
82 Diet Homeopathic remedies and flower essences to soothe a doggy soul.
84 The Doc is In Tending to Fido's opposite end.
98 The Backyard Dog "tales" from readers' very own back yards.

GAZETTEER
85 Galleria Some cool products to beat the heat and indulge the canine senses.
90 Travel Directory Top quality hotels for the roads less traveled and worth a sniff or two.
94 Marketplace Check out our collection of unique products in FIDO's marketplace.
From this issue