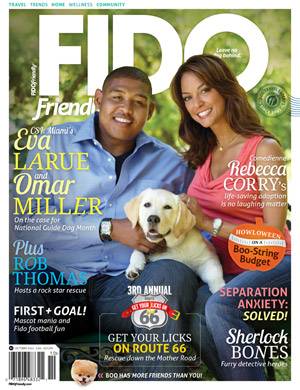 FEATURES
54 Feature Giveaway - Find a Fido his forever home and walk away the grand prize winner!
56 Celebrity Interview - Rock star and Matchbox 20 front man, Rob Thomas, helps keep "Pets Alive."
58 CSI: Canine Scene Interview Eva LaRue and Omar Miller strike a natural balance for guide dogs.
60 Idolized Kris Allen is hot! Idolized by America,including one lucky pooch.
62 Paw & Order Sherlock Bones to the crime scene,leaving no trail uncovered.
66 Comedic Splendor Last Comic Standing's Rebecca Corry places Fido in the front row.
70 3rd Annual Get Your Licks on Route 66 FIDO Friendly hits the Mother Road in then ame of pet adoption.
72 Boo: Facebook Fido Phenom Inside the sensation of teddy bear faced Internet pup.
74 First and Goal: Fido Football Fun Doggy tailgating and canine college mascots kick off the season.

TRAVEL
29 Day Trip Leashes and leaves, concords and canines: Winery style.
30 Dog Talk with Harrison Forbes FIDO Friendly's new travel expert debuts his canine column.
32 Fido Al Fresco Doggy dining designedwith puppy palates in mind.
34 Destination Review Coastal California town coos to canines.
36 The Whistler Get a snow mojo on as Fido travels to Canada, eh?
38 Trump SoHo Oh SoHo Fido in all its New York pomp and splendor.
40 Westin Kierland Resort & Spa Scotty in Scottsdale beckons for sandy, southern fun.
42 Ashland Springs Hotel Charm and history meet elegance and comfort doggy-style.
44 The Resort at the Mountain In Mt. Hood.
46 Huntington Beach Surf's Up at Shorebreak Hotel.
48 Laguna Beach Summer never ends at the Pacific Edge Hotel.
50 The Carlton A New York powerhouse of old-world Fido charm.
51 Delamar Greenwich Harbor Yachting! Take a rideon a yacht with Fido.
52 California Coast Finale - The finale in Carmel.
TRENDS
13 Best in Show Rembrandt for Rovers helps dogs one brushstroke at a time.
14 Local Letters to the Editor and readers raise the bark high.
16 Leave No Dog Offline - Follow our Facebook Fido fun and become a tail-wagging tweet.
20 The Parlor From Puparazzi to Crossword Fun, buried treasures await.
22 FIDO Expo - Dutchess and 50 other Fido tongues in all their glory! The phenomenon continues…
24 Canine Connection Trendy must-haves for mutts and pedigrees alike.
HOME
77 Table For Two Food for Fido and family.
79 Crate & Garden Everybody in the leaf pile (and other fall Fido fun)!
80 Bowser on a Budget Halloween costumes on a boo-string budget.
81 Adoption Story "Unadoptable" dog finds her"Ivory" tower and forever home.
82 He Yaps/She Yaps Separate and equal: Solving the being apart issue.
LIVING
83 The Glossary Impress your vet with Bingo's lingo.
84 Psychology Be his friend, find your lover.
85 Diet/Nutrition - Can dogs have eating disorders?
86 The Doc is In - What's it like to be a vet in today's modern world?
98 The Backyard - Abandoned Italian dog lightsup America.
GAZETTEER
87 Galleria - Fall into autumn with the latest products to hit the canine market.
90 Travel Directory - Hotels and Inns that welcome Fido from sea to shining sea.
94 Marketplace - Check out our collection of unique products in FIDO's marketplace.

From this issue