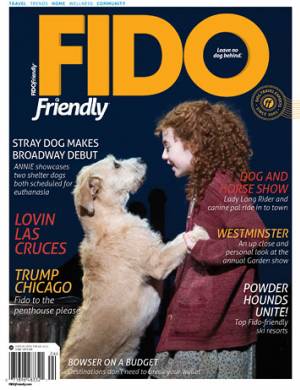 Travel
25 Top Ski Resorts Where Powder Hounds Unite!
Take Fido for a winter retreat where he can kick up his heels while you slide around on yours.
30 Trump Chicago
19th floor river and lake views to a thrill.
33 FIreSky Resort & Spa The Mediterranean inspired resort has Fido and canine companion begging for more.
36 Loving Las Cruces
Where else can you find Chile, history and ghosts?
38 Florida or Bust
Sunny Isles is a relaxing chic alternative to Miami.
Community
22 FIDO Expo
There's snow time like tongue time with our 50 best reader-submitted images.
Features
40 25 Days of Gift Giving
You may be a lucky winner in our December gift giving calendar contest.
42 ANNIE
This musical duo impresses Broadway.
46 Star of the Show
Join Lady Long Rider and sidekick Claire dog as they ride their horses, yes they BOTH have horses, in to the hearts of all those they meet.
52 Westminster
An up close, personal, and intimate look at the annual Garden show..
54 History in the Making
Petfinder has long been the leader in helping to place pets in to new forever homes.
Home
57 Table For Two Munch on holiday noshers with Fido.
58 Crate & Garden P. Allen Smith along with Smudge and Squeak prepare for winter.
60 He Yaps/She Yaps Our trainers weigh in on keeping both you and Fido safe and sane during the holiday season.
61 Bowser on a Budget Fido-friendly finds that will leave you waggin for more.
62 Adoption Story FIDO Friendly's very own Elise Phillips Margulis, talks about 'a thing of Beauty is a joy forever.'
Wellness 65 The Glossary Veterinarian-to-English dictionary.
66 Psychology Is your dog your fur-child and is that ok?
68 Diet/Nutrition Don't skimp on feeding Fido a healthy and nutritious meal.
70 The Doc is In The skinny on raw feeding for Fido.
82 The Backyard One brown dog inspired the Brown Dog Foundation where help is on the way to bridge the financial gap in a medical crisis.
From this issue