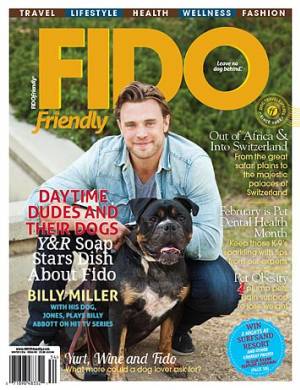 Travel
20 2013 Top Fido-Friendly Ski Resort
The beautiful and peaceful Vail Cascade is an all-season adventure resort for the entire family.

22 Yapping it up in a Yurt
Explore wine country Colorado and stay in a Fido-friendly Yurt.

24 Madison Wisconsin
Time flies when you're having Madison fun.

26 June Lake, California
The Double Eagle Resort and Spa is often referred to as "The Switzerland Of California."

28 12 Stays of Christmas
If your four-legged pal is dreaming of a White Christmas, pack a pooch pack and head off to the snowy slopes all over the world.

32 Fido on the Ferry
All aboard the ferry to Newfoundland with Fido.

34 Out of Africa and Into Switzerland Join in the ski and safari fun at these pet-friendly destinations.
Community/Trends
8 Book Preview
Pukka's Promise.

11 My Business Has Gone to the Dogs
Jared Katz from Coupaw has all the right deals.

12 Winning Essay on Adopting Fido
Meet Stephanie Vance who won our writing contest about how her rescue dog, Ozzie, changed her life.

14 FIDO Expo
A bonanza of tongue-toting canines.

16 Book Review
Autism and dogs as therapy.

17 Leave No Dog Offline
Follow our Facebook Fido fun and listen to the birdie tweets.

18 FIDO Fun Zone
From Puparazzi to Crossword Fun, buried treasures await.
Features
38 Feature Giveaway
The Surfsand Resort in Cannon Beach, Oregon, rolls out a Fido-friendly room where a rescue dog from Clatsop County Animal Shelter has a photo shoot surrounded by products you can win.

40 Cover: Daytime Dudes
Meet three cast members from The Young & The Restless and learn how their dogs impact their lives.

46 Winter Exercise Solutions
Don't let snow and rain ruin your Fido-fun. Check out these in-door games and mood altering lights.

48 Lady Long Rider
Night of the Wild Stallion is the final installment from the tenacious Bernice Ende who rides her horse thousands of miles each year with her dog Claire by her side.

50 February is Pet Dental Health Month
Practical advice on the importance of dental hygiene for your dog.

52 Special: The Doc Is In
Pet obesity on the rise and four dogs taking the weight loss challenge.
Home
59 Table For Two
Consider salmon a healthy whole food meal as a special treat.

60 Crate & Garden
Tis the season for muddy paws and tips on keeping the outdoors out!

62 He Yaps/She Yaps
Leash aggression and trainer tips to combat the situation.

63 Bowser on a Budget
Winter prices fall with temperatures.

64 Adoption Story
Duncan lost two legs but gained his new forever home.
Wellness/Living
67 The Glossary
Veterinarian-to-English dictionary.

68 Psychology
Where to find your dog-loving mate.

70 Diet/Nutrition
New Year—Happier, Healthier Fido.

82 The Backyard
Harley Helman was just nine years old when she started a grassroots campaign to bring creature comforts to homeless pets.
From this issue