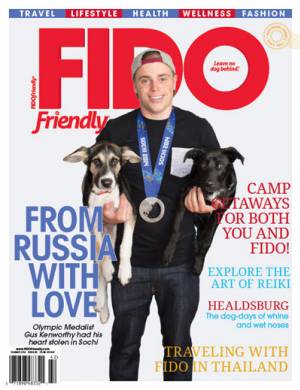 Travel
21 Hit the RV road with Fido.
Find out what all the barking is about at the San Francisco North/Petaluma KOA.

22 Loews Coronado Bay Resort
Loews Coronado is one of the most San Diego Fido-friendly hotels around, and you'll realize it from the moment you and your pet check in.

24 The Inn at Rancho Santa Fe
Take your time and stop at any one of the scattered Adirondack chairs to star gaze with your best bud.

26 Healdsburg
Enjoy the days of whine and wet noses in this Northern Californian town.

28 The Boise Riverside Hotel
Your well-equipped Fido-friendly room includes a river view that opens up to the Boise River Greenbelt.

30 Salinas
Home of a legend, Steinbeck country offers plenty for you and Fido to explore.

33 Mountains and Music Make Floyd a Hit
The Floyd County winery proves that this part of southwest Virginia is for lovers and dog-lovers.

34 Set Sail in St. Augustine
Fido is welcome to hoof, sail or ride along while exploring the cobbled streets and waterways of this former Spanish colony.

36 Dog Days of Summer in Santa Barbara
Look no further than Fido-friendly Santa Barbara for challenging hikes, and off-leash beaches.

38 Wellness at Red Rock
Resort guests can bring their dogs, or bond with those at a local animal shelter.

40 Sanibal
Take refuge in nature's splendor with Fido by your side.

42 Traveling With Fido In Thailand
An adventure awaits the intrepid traveler both human and canine alike.

45 Poochies in Princeton
World-class shopping, dining, and dog parks all in a few miles radius make for a wonderful destination!
Community/Trends
11 My Business Has Gone to the Dogs
Vintage Doors has Fido in mind when designing pet doors and pet gates.

12 Contest Winners
See some of the recent winners and their loot from FIDO Friendly contests!

14 Leave No Dog Offline
Follow our Twitter and Facebook Fido fun.

16 FIDO Fun Zone
From Puparazzi to Crossword Fun, buried treasures await.

18 FIDO Expo A bonanza of tongue-wagging canines.
Features
46 Feature Giveaway
A rescue dog is featured in a photo shoot at Cottages and Lofts at the Boat Basin on Nantucket surrounded by products you have a chance to win!

48 Cover: From Russia with Love
Traveling across the world for competitions, Winter Olympian Gus Kenworthy has never forgotton the importance of giving back.

52 Alternative healing with Reiki
Angelic Reiki may be just what the alternative doctor ordered when it comes to treating Fido.

54 The Benefits of Canine Retreats
Dogs need a vacation from the human world, a place where they can be free from the leash and be their doggy selves.

56 Learn to bike with your dog
Biking can be an extremely enjoyable activity for both dog and owner when the right precautions are taken.

58 Fido weight-loss reveal
Three pudgy pets took our weight loss challenge and we have the skinny on their results.
Home
60 Table For Two
Home cooking is one of the most meaningful ways to show your love for Fido.

61 50+: Celebrating Life with Fido at Fifty-Plus
Nothing cleanses the soul more than a day of hiking in an ancient forest with only yourself and your best four-legged friend as company.

62 Crate & Garden
Imagine the difference a quality door or gate can make for you and your dog.

64 He Yaps/She Yaps
Our two experts reveal different techniques for curtailing lovable licking that has turned in to a nuisance.

65 Bowser on a Budget
Summer Fido fun heats up at beach destinations.

66 Adoption Story
A stray dog, picked up from a busy roadway, waited for months to find a home and you won't believe the miracle that took place landing him in the arms of his loving owner.
Wellness/Living
67 The Glossary
Veterinarian-to-English dictionary.

68 Psychology
When you've had a bad day, your dog can sense your fatigue and apprehension.

82 The Backyard
Clarissa Black, an animal trainer, founded Pets for Vets, an organization that visits veterans suffering from PTSD and other conditions.
From this issue