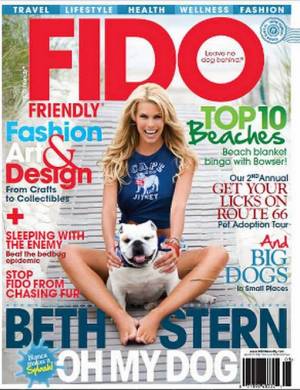 COVER STORY
34 Beth Ostrosky Stern Returning cover girl Bianca, companion of Beth Ostrosky Stern, shows moral support for Beth as she launches the book tour for Oh My Dog.

FEATURES
36 No Town Like Dog Town The "stars" of the wildly popular National Geographic Channel show DogTown share the behind-the-scenes scoop about producing the show and the day-to-day life at the sanctuary.
37 Art for the Animals Cyrus Mejia, artist and one of the founders of Best Friends Animal Society, has a knack for painting messages about kindness to animals on every canvas.
38 On the Move with Fido Moving and can't figure out how to fit Fido in the van? Check out this new idea: a pet relocation service.
39 Adoption Story One of Michael Vick's former Pit Bulls has not only found a forever home, but he's now a certified therapy dog, bringing love to those in need.
40 Living Small Style does not have to go by the wayside when sharing small spaces with Fido.
41 Traveling Big Are large dogs discriminated against? Do your homework to find out before you check-in.
42 Special Needs Dogs Hit the Road Needing a wheelchair, a special bed or more potty stops doesn't have to stop Fido in his tracks.
44 Dogs Dig Drive-ins The old family favorite is a new hit with Fido-friendly families.
45 Bedbugs Beware Who will come out the winner in the battle between bedbugs and detective sniffer dogs?
46 Bicycle Odyssey The globetrotting gypsies find refuge in a Spanish cave.
48 FIDO Friendly's Get Your Licks on Route 66 2010 Adoption Tour September 2010 will see FIDO Friendly along with North Shore Animal League America off on the Mother Road again for the 2nd annual adoption tour. Connie Townsend, creator of the tour's signature painting Dog's Welcome tells readers about her "dog art."
50 Fun in the Sun with Fido Seven reasons why Fido should always come along on summer vacation.
DESTINATIONS
51 Fess Parker's Doubletree Resort Enjoy 24 acres in Santa Barbara encircled by mountains and across from the Pacific Ocean.
52 Top 10 FIDO Friendly Beaches More and more beaches across the country allow dogs and even let them be off-lead. FIDO Friendly has reviewed the top 10 from coast to coast.
54 FIDO-Friendly State Vermont The Green Mountain State offers everything from fun in the snow to autumn shows and the famous Dog Chapel.
57 Scratch that Travel Itch Leave the camping gear at home and still enjoy a rustic getaway in a yurt with Fido.
58 FIDO-Friendly City Santa Rosa It's Snoopy's 60th birthday, and the Charles M. Schulz museum in this FIDO Friendly city is just one of the highlights to be found on a visit with Fido.
59 Weekend Warrior Fort Lauderdale has gone from a spring break Mecca to an ultimate FIDO-friendly destination, earning the moniker Fort Lauderdog.
60 Shaws Oceanfront B&B Publisher Susan Sims, husband Greg and dog Junior have an experience of a lifetime on Cannon Beach and become local celebrities.
61 Santa Monica Sheraton Delfina Refinement and sustainability come together at this luxury hotel, and it's all only four blocks from the beach.
62 Hotel Vintage Plaza Enjoy Yappy Hour with Diva of Pet Relations, Georgie, at this Portland, Oregon hotel.
64 Arch Cape Inn This French Château in Oregon does its best to help conserve the natural area that makes it so fabulous.
66 Historic Digs MacCallum House Inn in Mendocino, CA, was built in 1882, but it's kept up with charm, food and wine on the house!
67 Ojai Blue Iguana Taken from humble beginnings to beauty by local artists, the California inn offers a unique experience for canine travelers.
68 Canine Club Getaway Have a ball with Fido at this dog-centric retreat, and Fido may even come home as a "canine good citizen."
69 Hotel Murano Tacoma Hand-blown glass art from around the world decorates this exquisite hotel, but that doesn't keep them from welcoming Fido with open arms.
70 Nemacolin Resort This Pennsylvania paradise has a Woodlands resort for humans and an equally impressive Wooflands resort for canines.
72 Admiral Fell Inn Located in the Inner Harbor District of Baltimore, MD, this inn rolls out the red carpet for Fido.
75 Point Williams Samish Island Rent a private home on this Washington state island, and receive a special offer when you mention FIDO Friendly.

DEPARTMENTS
14 Parlor Sniff through the crossword puzzle, test your skills and check out some photographic pooches. Plus, Weird News, Wagging Dogs, Fido Feed: Brain busters for the newsy hound in you.
18 The Social Pet New York's parks shine during the summer.
20 Crate & Garden A garden rooftop doghouse may be just the thing to stop Fido from digging—and give your backyard a makeover.
22 Natural & Holistic Dog Stop flicking fleas off of Fido all summer! Try these tips to keep Fido fl ea free.
24 Pet Nutrition Getting Fido the nutrients he needs just takes a little thought and some real food.
28 The Doc Is In Medication interactions do not just occur in humans. Know what to look for when Fido's medicine goes down.
30 Training 101 What to do when Fido won't stop chasing other furry creatures.
32 My Business Has Gone to the Dogs Innovations abound at Wag'N Enterprises—the only Pet Emergency Management Company in the world.
90 Road Warrior Survival Safety and restraint essentials.
92 Lead Reads Two new books!

THE DIRECTORY
75 Fess Parker's Doubletree
76 Natural & Holistic Lifestyles Artist Guide
81 Travel Guide 87 Marketplace
From this issue