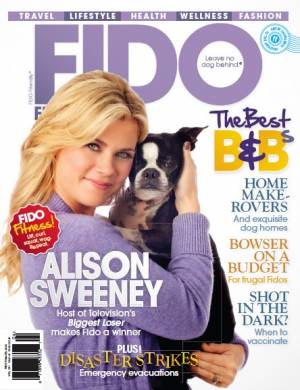 COVER STORY
38 Alison Sweeney Television's Biggest Loser host wins the hearts of dog lovers. PLUS easy exercises for both you and Fido that will make working out fun.

FEATURES
42 Disaster Planning Our three-tier canine call to action when disaster strikes.
44 Get in the Doghouse—21st Century Style Raise the roof, summon the neighbors, we're unleashing all canine boundaries.
50 Search & Rescue Dogs destined to dig and discover.
52 Amazon Cares Peruvian pups get a second chance thanks to human and canine ambassadors.
54 Paradise Ranch Here comes the Sun Valley and Fido basks in its California glory.

DESTINATIONS
56 Spaws for Dogs The next time you hit the road with Fido, make it count. There may even be a massage in it for him.
60 Bed, Bark & Breakfast Our picks for B&Bs that aim to please Fido and family.
66 Pampered Pooch in Sedona Serene Sedona welcomes both you and your pooch.
68 California Dreamin' Beach Blanket Bingo.
70 Hotel Monaco: Salt Lake City, Utah Mountain majesty and Great Lake grandeur at this decadent destination.
72 Finish Line Logging 10,000 miles across Europe, Finley Fagan delivers a bittersweet adieu.
74 Fido Al Fresco Doggy bag to a whole new level: Canine connoisseurs delight in dining.
76 Albuquerque's Bow-Wow Factor Quirky-cool sights, Sandia Heights and canine delights.
78 Aloft Philadelphia Airport Wake me up before you a go-go at this trendy and eclectic hotel.
DEPARTMENTS
12 The Parlor Puparazzi and Crossword Puzzle, Fido Feed/Weird News, Fur-bulous Anagram, Letters to the Editor, Where's Fido, Social Media Connection. Last call for our Leave No Dog Behind® writing contest.
22 Show Us Your Tongues Is your Fido one of the 50 selected for tell-"tail" tongue fun?
24 My Business Has Gone to the Dogs Ken Meares, CEO and Founder of Great HealthWorks, makers of Mussel Dog has a passion for helping people and their pets.
26 Crate & Garden Floor by four, options to keep floors looking furbulously fab.
28 Pet Nutrition Spicing up Fido's foods without flipping his lid (or digestive tract).
30 The Doc is In Are dogs being over vaccinated? Shot in the dark, we've got the target answers.
32 Bowser on a Budget Frugal Fidos cut costs.
33 Best in Show Hand to paw, meals and wheels, heart to hospice, Banfield Trust touches lives.
34 Training 101 "Uncle, Uncle!" Tug-of-war: Knowing when to say enough.
35 Adoption Story From emaciated to immaculate, one dog's journey to his forever home.
36 Leashes & Lovers Walk the walk, bark the bark, and keep the doggitude in check.
90 Lead Reads Dogs who can't (and won't) stop loving us humans.

THE DIRECTORY
79 Lifestyle Guide
84 Travel Guide
From this issue