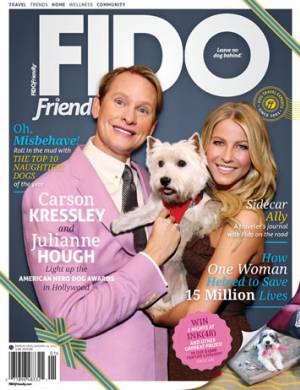 Features
48 Feature GiveawaySave a Life, Win Prizes as Ink48 Marks the Spot of our $1,500 bone-anza contest.
50 25 Days of Gift GivingWe spill the Fido sack of surprises in our annual 25 Days of Winning Prizes.
52 Hero Dogs Celebs Betty White, Carson Kressley, and Julianne Hough pay homage to the hounds.
56 International Howl-i-DogsHow Fido celebrates beyond US borders.
58 Naughtiest Dogs of 2011Naughty is the new nice with these 10 "uh oh" canine moments.
60 Petfinder Founder, Betsy Banks SaulHow one woman changed the face of animal adoption forever.
62 Volunteer SpotlightBarrie Connolly offers support wherever she can.
TRAVEL
31 Day TripPack the car for Fido's Festival of Lights.
32 Forbes Only KnowsCelebrity pet expert dishes dog travel words of wisdom.
34 The 12 Stays of Christmas Jingle all the way out of town at our top picks for howliday getaways.
40 Man + Dog x Motorcycle Sidecar =One man's journey from loss to hope ala Spirit style.
42 THEhotel at Mandalay BayLas Vegas hotel strikes it rich and hits the canine jackpot.
44 Fido's Florida Adventures: Part IFive Sunshine State finds to unearth and explore.
46 Montage at Deer ValleyPark City paradise welcomes powder hounds and their pack.
TRENDS
13 Best in ShowTaking black dogs out of the shadows and into the limelight.
20 The ParlorChannel your inner Sherlock Bones with our tail the truth and crossword challenge.
26 Canine ConnectionItems designed with the dog-loving set in mind.
HOME
65 Table For Two"Bone" appétit with this canine delicacy for all pack members.
67 Crate & GardenHoliday safety tips from design guru Moll Anderson.
68 Adoption StoryAmelia was a creature stirring in the night, until fate stepped in.
69 Bowser on a BudgetStocking stuffers that won't break the piggy, er… puppy, bank.
70 He Yaps/She YapsWhat to do when a second dog brings double trouble to the pack.
WELLNESS
71 The GlossaryVeterinarian-to-English dictionary.
72 PsychologyCan a non-dog family share good tidings with Fido's holiday visits?
74 Diet/NutritionSkip the indigestion, savor the holiday spirit.
76 The Doc is In How to handle (and prevent) ear infections.
90 The BackyardPeople making a difference in our own backyard. Feeding pets of the homeless takes center stage.
COMMUNITY
14 LocalSanta gets mail, but so do we in Letters.
16 Leave No Dog OfflineThe fur flies on Facebook and our Blog.
24 FIDO ExpoThere's snow time like tongue time with our 50 best reader-submitted images.

GAZETTEER
galleria77Pining puppies and mellowed mutigrees wish list of must-have holiday items.
marketplace 85 Select picks for discriminating pooches.

TRAVEL DIRECTORY
86 Hotels and Inns where dogs are warmly welcomed.
From this issue