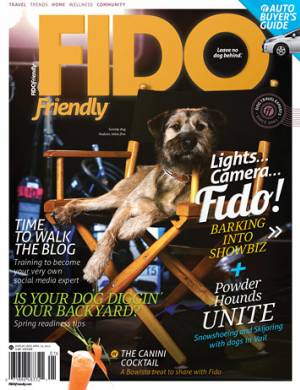 Travel
27 Day Trip Taking the doggy slopes by snowstorm ala skijoring and snowshoeing.
28 Barking For Branson Southern hospawtality at its finest for mutts and more in Missouri.
30 Ara & Spirit Dynamic wanderlust duo, make the best of winter on their motorcycle excursion.
32 Fido Al Fresco Where to eat with Fido, now that more restaurants welcome dogs.
34 Tenaya Lodge Wilderness wags for this Fido-friendly Yosemite getaway.
36 Embassy Suites North Carolina Dogs are welcome in this racing town's winner's circle.
Community
13 Local Cupid, Draw Back Your Bow! These Valentines seem to be smitten as a kitten to one another.
14 Leave No Dog Offline Facebook fun and blogging Bowsers.
20 FIDO Expo A mid-winter bonanza of tongue-toting canines.
Features
38 Feature Giveaway Hail to the Fido Chief in D.C., win a getaway and prizes and help save a life in our $1,100+ Feature Giveaway contest.
40 Showbiz Dogs and Famous Fidos Top dogs dish on how to get Bowser his big break.
44 Buying a Car with Fido in Mind Wheel appeal and safety first in our top picks for 2012 canine transport.
46 Vail Dogs Rocky mountain high Colorado—going to the canines.
50 Get Your Dog a Blog Investigating the "wag-wide" phenomenon: blogging for and about dogs.
52 Honoring A Life Well Lived Letting go and grieving the loss of a beloved dog.
54 Canines Counting Sheep Let sleeping dogs lie, in bed, with their human counterparts.
Trends
16 The Parlor Canine Tail the Truth, Puparazzi and Fido on location. Sleuthing pooches unite with a crossword challenge, anagram and more.
22 Canine Connection Must-have products for the dog-loving crowd.
Home
57 Table For Two Canini cocktail.
58 Crate & Garden How to prepare the garden for spring with pups in mind.
60 Adoption Story How one pup went from not-a-chance to the chance of a lifetime.
62 He Yaps/She Yaps Our experts reveal if slumbering with dogs is the way to go (to sleep).
63 Bowser on a Budget He loves me, she loves me not, but for $25 and under Fido gets major Valentine love.
Living
65 The Glossary Speak the language that vets do.
66 Psychology The dog-o-meter: Dating's new state-of-the-art defense.
68 Nutrition Cooked with love, these Valentine dishes are sure to elicit a wag.
70 The Doc is In Keep those canine's canines sparkly during National Pet Dental Health Month.
From this issue