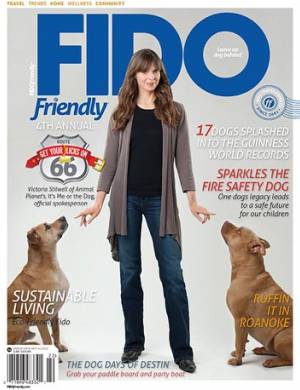 Travel
24 Dog Spa - Relax at this new resort that caters to canines and their people.
26 Ara & Spirit - Taking stock in the 'real world.'
28 Vail Beaver - Four season resort welcomes Fido.
30 The Dog Days of Destin - It's a Florida dog's life.
32 Sundance Resort - Robert Redford got it right.
34 Ruffin it in Roanoke - Black Dog Salvage and walks along the river is just the start.
Community
20 FIDO Expo - There's snow time like tongue time with our 50 best reader-submitted images.
Features
38 Feature Giveaway - Shelter dog Niles has been adopted but prizes are yet to be won.
40 Food Tasters - It makes sense for Fido to sample food heading for the masses, but his own private play yard?
42 Sparkles the Fire Safety Dog - How one dog started a fire-safety revolution and taught kids the importance of "roll over."
44 Avalanche Dogs - Buried alive and wet noses to the rescue.
48 Sustainable Living - You know you want to "go green" with Fido and we will show you how.
50 Surf's Up, Doggies (and Goats)! - Dog packs and a pair of goats are taming the mighty Pacific Ocean.
52 Get Your Licks on Route 66 - Animal Planet's Victoria Stilwell from 'It's me or the dog' talks about her role as official spokesperson for the 4th annual month long pet adoption tour: Get Your Licks on Route 66.
Home
57 Table For Two - Check out this recipe that will be sure to make Fido sit and beg for more.
58 Crate & Garden - P. Allen Smith creates the perfect outdoor space for his dogs Smudge and Squeek.
60 Adoption Story - Rescue London will steal your heart.
62 He Yaps/She Yaps - Don't get those leashes wrapped around your ankles. Tips on walking more then one dog at the same time.
63 Bowser on a Budget - Good season to save on travel.
Wellness
65 The Glossary - Veterinarian-to-English dictionary.
66 Psychology - Leashes and Lovers - Best furry friend trumps newbie.
68 Diet/Nutrition - Scoop on poop.
70 The Doc is In - He ate what? Interesting items surface a year later, even our publisher's dog Jake solved the puzzle of the missing rubber ducky.
82 The Backyard - People making a difference in our own backyard. Let a smile be your umbrella.
From this issue