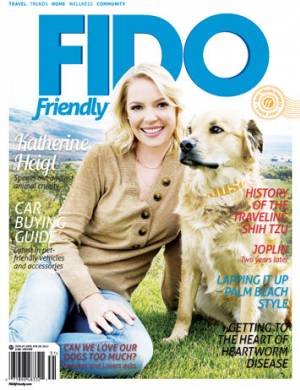 Travel
27 Day Trip - Crystal Mountain
Outdoor enthusiasts and dog explorers will delight in this Fido-friendly escape.

28 San Antonio
A River Walk with treats at every turn.

30 MS Gulf Coast
Ramblin, gambling and rockin on the playground of the south.

33 Pet Relocation
Confused about pet travel rules? View the Q&A from PetRelocation.com.

34 Chesterfield Palm Beach
Lapping it up—Palm Beach style
Community
12 My Business Has Gone to the Dogs.
Snuggle up with owner Bob Thorne to find out what keeps the heart beating at his company.

14 Leave No Dog Offline Follow our Facebook
Fido fun and become a tail-wagging tweet.

16 Book Reviews Beg excerpts and new book by Victoria Stilwell.

18 FIDO Expo A bonanza of tongue-toting canines.

20 The Parlor From Puparazzi to Crossword Fun, buried treasures await.
Features
36 Feature Giveaway
Two adorable adoptable pups surrounded by prizes for one lucky winner!

38 Katherine Heigl
Actress and animal activist is an active advocate for animals in need.

42 Joplin: Two Years Later
Pets are still being reunited with their owners by the selfless acts of strangers.

48 Lady Long Rider
Finishing up a six thousand mile ride with Claire dog.

50 Car Buying Guide
Buying a car with Fido in mind.

53 Travel Accessory Guide
Hitting the road? Check out these cool products.

54 History of the Traveling Shi h Tzu
Photo essay and travel tails of this treasured pet.
Home
57 Table For Two Banana pup cakes.

58 Crate & Garden Ready or not spring gardens have sprung!

60 He Yaps/She Yaps Different strokes for different folks but our dog trainers agree on exercising with Fido: slow and steady wins the race.

61 Bowser on a Budget Shoulder season equals spring discounts.

62 Adoption Story A year in the making to find Tyrus his new forever home.

64 Petfinder I've adopted: now what?
Wellness
67 The Glossary Veterinarian-to-English dictionary.

68 Psychology Can you love your dog too much?

70 Diet/Nutrition Does one food fit all or do different breeds require designer diets?

72 The Doc is In Getting to the heart of heartworm disease.

82 The Backyard There's an app for that!
From this issue