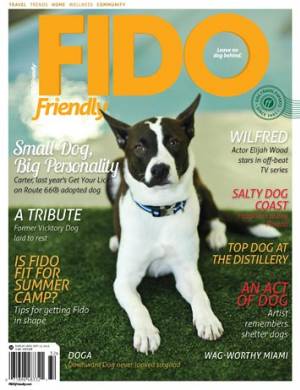 Travel
23 FIDO Al Fresco
Where you and your furry companion can dine in style.

24 Salty Dog Coast
Visit Franklin County, Florida where the fun never stops and the fur always flies!

28 Miami South Beach
South Beach's SoFi Neighborhood is So Fido-Friendly.

30 Fun in Fairhope
Known for over 100 years as a mecca for artists, writers and intellectuals. And now Fido too!

32 Yappy Hour Ritz Carlton
Luxurious digs and a party on the patio mark the spot at this beach resort.

33 Pet Relocation
Follow these tips to help your dog enjoy a safe and fun journey when moving this summer.

34 Portable Pup
After many years of leaving their beloved friend behind, their pup was now portable.

36 Meet cover dog, Carter
Adopted last year during month long pet adoption tour: Get Your Licks on Route 66.®
Community
13 My Business Has Gone to the Dogs
Is your dog tough enough for DogTuff toys? Interview with founder Scott Cody.

15 Tribute - Vicktory Dog Laid to Rest
Lucas spent his days at Best Friends Animal Society and touched many lives.

16 FIDO Expo A bonanza of tongue-toting canines.

18 FIDO Fun Zone From Puparazzi to Crossword Fun, buried treasures await.
Features
38 Feature Giveaway
Sweetheart shelter dog Eva enjoys photo shoot surrounded by products you can win!

40 Wilfred
Does quirky and Elijah Wood go together? In the FX hit Wilfred, Wood yaps about his third season.

42 The Sato Project
Learn how to help the thousands of strays who roam Puerto Rico beaches and streets.

44 Titos Vodka
The Vodka is award winning but the owner's heart wins awards with stray dogs.

46 Doga
Get your Zen on with downward dog—with your dog.

48 Lady Long Rider
Ride in to Astoria with Bernice and Claire Dog.

50 Dog Camp
Is Fido fit for camp? Get Fido in to shape with helpful tips before choosing his summer camp.

52 Act of Dog
An artist donates time and talent remembering shelter animals who have been killed.
Home
55 Table For Two Beef and Almond Meatballs.

56 Crate & Garden Master Gardner P. Allen Smith helps keep Fido out of the doghouse with summer gardening tips.

58 He Yaps/She Yaps Love to dine with Fido? Follow these tips on how to bring a well-heeled dog to tea.

59 Bowser on a Budget The dog days of summer extend all season with relaxing packages and rates.

60 Why does my Dog do That? One of the country's leading pet experts, Nikki Moustaki, joins the FIDO Friendly pack with words of advice.

61 I've Adopted, Now What? Can adopting in the warm summer months pose a problem with your new Fido?

62 Adoption Story Eve went from living a lonely life of neglect, to one of pampered luxury.
Wellness
65 The Glossary Veterinarian-to-English dictionary.

66 Psychology When Eight is Enough.

68 Diet/Nutrition Is Fido allergic? Allergic reactions to food ingredients are quite rare. Part one.

70 The Doc is In The scoop on poop.

82 The Backyard Fight to ban Greyhound racing.
From this issue