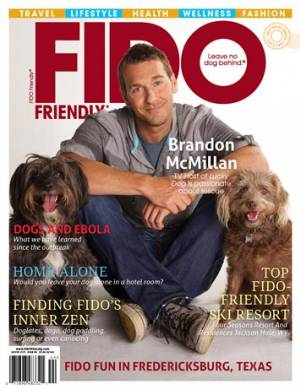 Travel
24 Fido Fun in Fredericksburg, Texas.
Visit the town voted as the number one Best Place to Live in Texas.

28 Four Seasons Jackson Hole, Wyoming
Top Fido-Friendly Ski Resort 2015.

30 Traveling with an older dog
A senior dog can become a perfect travel companion as well as enrich life at home.

32 Washington County
Take a trip with Fido to the Lonestar State.
Community/Trends
11 My Business Has Gone to the Dogs
Meet Barbara Pietra, owner of Sidekick for Pets and learn how she manifests what she things about!

12 Contest Winners
Past winners and the loot they received from FIDO Friendly contests!

14 Leave No Dog Offline
Follow our Twitter and Facebook Fido fun.

16 FIDO Fun Zone
From Puparazzi to Crossword Fun, buried treasures await.

20 FIDO Expo
A bonanza of tongue-wagging canines.
Features
34 Feature Giveaway
A shelter dog from The Rutland County Humane Society in Vermont is featured in a photo shoot surrounded by great products you have a chance to win!

36 COVER: Brandon McMillan
TV host of the weekly CBS series Lucky Dog is passionate about rescue.

42 Avalanche Dogs to the Rescue
Swiss icon Berry gets his own exhibition.

45 Finding Fido's Inner Zen
Downward dog finds new meaning when Fido let's go.

48 Timmy is not in the Well!
Join Jon Provost who played Timmy in the beloved Lassie series on a cruise.

50 Should you Leave Your Dog Alone in a Hotel Room?
One dog went missing never to be found.

52 Ebola and Dogs
One dog euthanized and one dog quarantined. What we have learned since the Ebola crisis.

54 Brush Those Canines
February is Pet Dental Health Month.
Home
57 Table For Two
Home cooking is one of the most meaningful ways to show your love for Fido!

58 Bowser on a Budget
Bundle Up Your Pooch for Cozy Hotel Packages

60 He Yaps She Yaps
Playing tug-of-war: Doggie dos and don'ts.

61 Crate & Garden
Protect Your Furry Family Members from Winter's Chill.

62 Adoption Story
Riley, the Canyon Puppy.
Wellness/Living
65 The Glossary
Veterinarian-to-English dictionary.

66 Psychology
Prescribe Dogs, not Drugs.

68 The Doc is In
I have a large dog, is he susceptible to wobbler syndrome?

82 The Backyard
Veterinary volunteers travel to help people and their pets.
From this issue