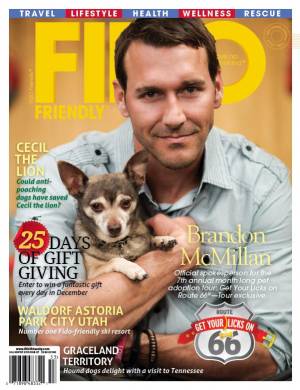 Travel
24 Louisville
From Cavern to Galleries, Louisville Welcomes Furry Explorers.

26 Top Fido-friendly Ski Resort 2015
Find out why The Waldorf Astoria Park City has what it takes to make your ski vacation the best one ever!

28 West Tennessee
Visit the bucolic town of Collierville voted number one Main Street in America.
Community/Trends
11 My Business Has Gone to the Dogs
Want a game of fetch? GoDogGo created just the right machine for you and your dog.

12 Contest Winners
Past winners and the loot they received from sponsors in FIDO Friendly contests!

14 Leave No Dog Offline
Follow our twitter and Facebook Fido fun.

16 FIDO Fun Zone
From Puparazzi to Crossword Fun, buried treasures await.

20 FIDO Expo
A bonanza of tongue-wagging canines.
Features
30 Feature Giveaway
Meet Alvin a terrier mix breed surrounded by great products you have the chance to win.

32 25 Days of Gift Giving
Tis the season and we have 25 days to delight our Fido-loving fans!

34 COVER: Brandon McMillan
Official spokesperson for the 2015 Get Your Licks on Route 66® pet adoption tour and host of the CBS TV weekly series, Lucky Dog.

40 Deaf Dogs of Oregon
Chelsea Tunning and her staff are all volunteers working out of a deep passion for these special needs dogs many of whom have sight issues, as well, due to lack of pigment.

42 How I Spent My Summer Vacation
Essay winner Mar Sension with the help of her Golden Retriever, Wyatt, tell the tail and share photos of their summer vacation.

44 Adventures in Petsitting
You don't need to join the Navy to travel the world, just be available to pet sit for months at a time in exotic ports of call.

46 Could anti-poaching dogs have helped save Cecil the lion?
Headlines over the past few months detail the horrific way Cecil the beloved lion was killed. Are dogs the answer to help save these magnificent animals?
Home
49 Table For Two
Pumpkin is festive and good for Fido.

50 He Yaps She Yaps
How to keep Fido fit over the winter months.

51 Bowser on a Budget
As temperatures cool, traveling dogs get a warm welcome at pet-friendly destinations.

52 Adoption Story
Born with just two legs, Roo Roo does not let that slow her down.

54 Crate & Garden
Birds in your winter garden help make it a Fido-friendly retreat.
Wellness/Living
55 The Glossary
Veterinarian-to-English dictionary.

56 Psychology
Compromise is "key" when you are composing family harmony.

58 The Doc is in
Children's toys are common household items not unusual for dogs to ingest.

74 The Backyard
Wrapped in Love is a group of artisans and crafters who lovingly create blankets to comfort our furry pals.
Galleria
59 Holiday Gift Guide Guide
From this issue