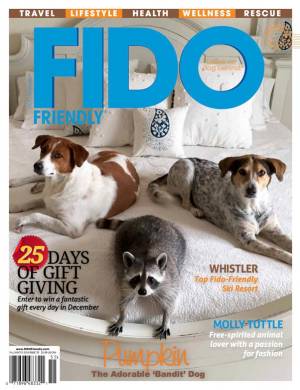 Travel
20 Top Fido-friendly Ski Resort
Whistler's Evolution is consistently ranked in the Top 10 hotels on TripAdvisor to stay and play while visiting the Whistler area.

22 Festive Fido
Discover ten festive season trips that you can experience with your best pal. 28 Tampas's Star Has Risen
From its New Riverwalk to Taprooms to Elite Hotels, Tampa Loves Dogs.

32 Reno
On your way to South Lake Tahoe visit Reno, a hidden gem.

34 Tropical Dog
Just a girl and her dog, traveling around the world. This issue: Fall in Bordeaux with a dog.

36 Adventures in Petsitting
This author combines her passion for dogs and travel by Petsitting. This issue: A duo of dogs make the perfect Christmas companions in Botswana.
Community/Trends
11 Contest Winners
Past winners and the loot they received from sponsors in FIDO Friendly contests!

12 Leave No Dog O ine
Follow our twitter and Facebook Fido fun.

14 FIDO Fun Zone
From Puparazzi to Crossword Fun, buried treasures await.

18 FIDO Expo
A bonanza of tongue-wagging canines.
Features
38 25 Days of Gift Giving
Tis the season to win a gift a day online during December.

40 Feature Giveaway
Meet Gila fostered by the Northeast Boston Terrier Rescue and surrounded by prizes you could win.

42 Pumpkin the Raccoon
Orphaned Pumpkin found her new forever home in the Bahamas with dogs.

45 Fashion Veggie
Vegan Fashionista living with compassion.

48 Vets and Service Dogs
American Humane aims to address obstacles in public access to Vets with Service Dogs.
Home
50 He Yaps She Yaps
Tips when traveling with Fido by car.

51 Bowser on a Budget
Winter dog travel is cool.

52 Crate & Garden
Taking care of outdoor equipment during the winter months.
Wellness/Living
53 The Glossary
Veterinarian-to-English dictionary.

54 The Docisin
New screening for kidney disease.

70 The Backyard
Lindy's Bakery, people making a difference.
Galleria
69 Holiday Gift Guide
From this issue