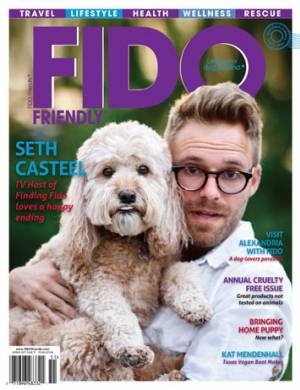 Travel
20 Inn and Spa at Loretto
Santa Fe is a wonderful walking town and the Inn and Spa at Loretto is a perfect base camp for any and all excursions with Fido.

22 Alexandria is for Dog Lovers
More than half of Alexandria's hotels are Fido-friendly.

26 San Antonio
The city appears on best-places lists year after year thanks to its collage of cultures, attractions and festivals.

28 Tropical Dog
Living in Columbia with a dog.

30 Adventures in Petsitting
Author Jane Thomas travels to English Lake District.

34 The Getaway at Glen Highland Farm
Dog-lovers travel to the Farm to escape to the countryside with their dogs.
Community/Trends
12 Contest Winners
Past winners and the loot they received from sponsors in FIDO Friendly contests!

16 FIDO Fun Zone
From Puparazzi to Crossword Fun, buried treasures await.
18 FIDO Expo
A bonanza of tongue-wagging canines.
Features
32 Feature Giveaway
Two rescue dogs are featured in a photo shoot at Hotel Indigo in San Diego surrounded by products you have a chance to win!

36 Cover: Finding FIDO Friendly, Inc.
TV Host Seth Casteel of Finding Fido talks about his new show and book Underwater Dogs.

38 Bringing Home Puppy
Great roundup of products will help you train and live with your new puppy.

44 Kat Mendenhall
Two words you'd never expect to hear in the same sentence: cattle rancher's daughter and vegan.

46 From Pineapple to Kombucha Tea
See the ingenious way designers are making vegan leather.

48 Water Thru Skin
Yogini and compassionate animal advocate Valeria Hinojosa.

50 Third Annual Cruelty-free Issue
Leading a more compassionate lifestyle begins with daily choices from what we eat and what we wear.

56 Shelter Me
Dr. Jane Goodall hosts inspiring PBS series that features shelter dogs trained to protect endangered species in Africa.
Home
58 He Yaps She Yaps
Our two dog training experts reveal different techniques for curtailing a puppy from biting his siblings.

59 Bowser on a Budget
Beat peak season prices with spring getaways with your dog.

60 Crate & Garden
Time to spruce up your garden now that spring is in the air.

61 Adoption Story
A little dog named Ivy is living a real-life fairy tale..complete with a tragic, difficult beginning to a joyful and inspiring outcome.
Wellness/Living
67 The Glossary Veterinarian-to-English dictionary.

72 The Backyard
Alex Quintero takes on his Eagle Service Project with a passion to help the animals.
From this issue