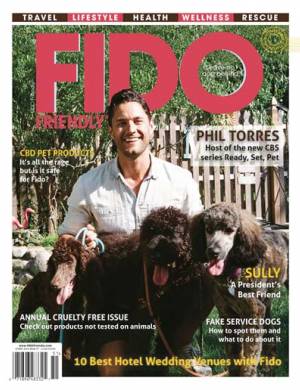 Travel
38 Lake Geneva
Stay at the Fido-friendly Ridge while you explore this Midwest marvel.

40 Savannah
Georgia's worldly and historic port city is more luxurious than ever.

48 Paséa Hotel & Spa
Located in Huntington Beach, California,
Paséa Hotel & Spa offers up an amazing property for Fido to sniff out for review.

54 Tropical Dog
Join Shark on her journey in one of the most mesmerizing spots in Greece.

56 Adventures in Petsitting
Taking a stick-obsessed dog across European borders.
Community/Trends
12 Contest Winners
See some of the recent winners and their loot from FIDO Friendly contests!

16 FIDO Fun Zone
From Puparazzi to Crossword Fun, buried treasures await.

18 FIDO Expo
A bonanza of tongue-wagging canines.
Features
20 CBD Products for Pets
Everyone wants to jump on the latest bandwagon and some companies are noticeably more reliable than others.

25 Fake Service Dogs
The explosion of fake service dogs in the last five years has caused severe collateral damage to the real service dogs and their owners.

28 Sully, a President's Best Friend
Now that Sully's time with the late former President Bush is over, the lab will continue to assist veterans.

30 Catra Corbett
Meet Vegan ultrarunner and her sidekick, TruMan.

32 Annual Cruelty Free Issue
People and products leading the way to a compassionate lifestyle.

42 Feature Giveaway
Adoptable shelter pets surrounded by prizes you could win.

44 Ten Best Hotel Wedding Venues
A growing number of couples are opting to include their best friend in their special day.

50 Product Review
Our team of experts test out four of the top Bully Sticks on the market.

52 21st Century Product Reviews
Fun Fido gadgets are designed to get your dog moving and keep them healthy and safe.
Home
58 Pet Adoption Tips
How to prepare your home for a new pet.

60 He Yaps/She Yaps
Read techniques from our two professional dog trainers who help to resolve panic in a pup whenever he visits the veterinary clinic.

61 Bowser on a Budget
If your favorite spring fling means traveling with Fido you'll love these super hotel packages.

62 Crate and Garden
Spring is the perfect time to get your garden ready for both you and Fido.
Wellness/Living
64 GALLERIA
Lifestyle Guide, and Holiday Gift Guide

74 The Backyard
Fun rubber fish purses help animal rescue groups.
From this issue