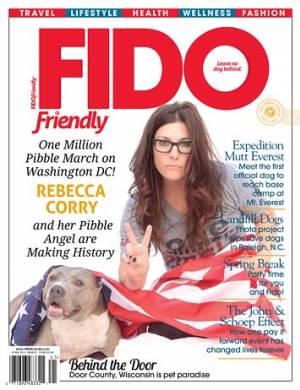 Travel
21 Spring Break
Fido deserves to let loose at 'pupular' spring break destinations.

22 The Kona Kai Resort
This San Diego jewel offers water sports and casually elegant dining on private waterfront.

24 Norfolk, Virginia
Virginia is for dog lovers and Norfolk welcome the entire pack.

26 Wisconsin
The Great River Road rises up to meet you and your furry companion.

28 Namibia
Brave dogs protect important flocks in Africa.

30 Ohio is the Bowser State
State Parks offer adventure for the entire family.

32 Paso Robles
Wineries and restaurants where you and Fido can whine and dine!

34 Door County
Hiking trails and miles of pet-friendly beaches surround the peninsula.
Community/Trends
11 My Business Has Gone to the Dogs
Canine Covers keeps your cars interior clean and so much more.

12 Contest Winners
See some of the recent winners and their loot from FIDO Friendly contests.

14 Leave No Dog Offline
Follow our Twitter and Facebook Fido fun.

16 FIDO Fun Zone
From Puparazzi to Crossword Fun, buried treasures await.

18 FIDO Expo
A bonanza of tongue-wagging canines.
Features
38 Feature Giveaway
Two rescue dogs are featured in a photo shoot at Maumee Bay, Ohio surrounded by products that you have a chance to win!

40 Cover: One Million Pibble March on Washington DC
Rebecca Corry and her Stand Up For Pits foundation hopes to create an understanding of the Pit Bull breed and end BSL forever with her historic march on Washington DC.

44 Mutt Everest
Joanne Lefson with rescue dog, Rupee, scale the heights to bring awareness to the importance of adoption.

48 Healing While Paying it Forward
The John & Schoep effect—how one pay it forward event has changed lives forever.

50 Separation Anxiety
Does your home include a nervous Nellie? There is hope and ways to cope.

52 Hiking with Your Dog
Helpful hints on keeping Fido happy and active in the great outdoors.

54 Car Buying Guide with Fido in Mind
Got the need for speed? Check out the 2014 models where Fido can ride in style!
Home
57 Table For Two Chicken & Banana Bars
This savory dish can be cut into slices sized appropriately for your dog.

58 Crate & Garden
Don't dig your dog digging your garden? Read helpful hints here.

60 He Yaps/She Yaps
Best advice on introducing Fido to a toddler.

61 Bowser on a Budget
Time to stop and smell the flowers with these spring savings for Fido-friendly travel.

62 Adoption Story
One photographer saw the beauty of the Landfill Dogs and helped find forever homes for these overlooked souls.

64 50+ with Fido
Baby boomers unite for fun and good advice.
Wellness/Living
65 The Glossary
Veterinarian-to-English dictionary.

66 Psychology
Do you love yourself as much as your dog loves you?

68 The Doc is In
Leptospirosis is one of the most widespread and prevalent zoonotic diseases worldwide.

70 Diet/Nutrition
New recipes filled with natural goodness.

82 The Backyard
Jim Cotsana spent 26 years as an Operations Officer and Senior Executive with the Central Intelligence Agency and traveled and lived all over the world. Learn about his second career in volunteering for the SPCA.
From this issue