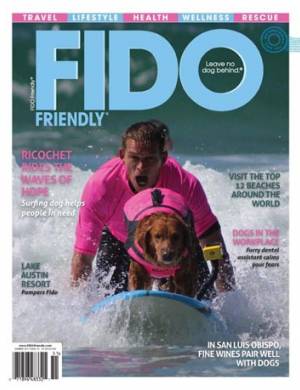 Travel
20 Lake Austin Spa Resort
A sanctuary for rest and renewal in Texas' legendary Hill Country.

22 Prince Edward Island
Frolic with Fido amid the distinctive natural red surroundings of Canada's Prince Edward Island.

24 In San Luis Obispo, Fine Wines Pair
Well With Dogs.

28 Warm Breezes Await You And Fido
The Wyndham Orlando Resort International Drive opens a world of possibilities for you and Fido to explore together.

34 Road Trippin' Along California's
Central Coast.

36 Tropical Dog
Visiting Peru with a dog.

38 Adventures in Petsitting
Paddleboarding Pooches in Paradise.
Community/Trends
12 Contest Winners
See some of the recent winners and their loot from FIDO Friendly contests!

16 FIDO Fun Zone
From Puparazzi to Crossword Fun, buried treasures await.

18 FIDO Expo A bonanza of tongue-wagging canines.
Features
29 Tentrr Provides Comforts of Home in the Great Outdoors

30 Literary Trips
From places where writers once lived, to artistic hideaways we take a look at the best literature-linked places to vacation with your pet.

40 Feature Giveaway
Two rescue dogs have the best day at a photo shoot in Carlsbad surrounded by products you have a chance to win!

42 Cover
Surf Dog Ricochet Changes Lives.

46 12 Top Fido-friendly Beaches Around the World.

50 Dogs in the Workplace
Luna has become an intrinsic part of treatment at The Dental Boutique.

52 On the Road with Fido
Travel accessories making the trip fun and safe.
Home
58 He Yaps/She Yaps
Our two experts reveal different techniques for teaching Fido about water adventures.

59 Bowser on a Budget
Dog Days of Summer and not to miss deals.

61 Adoption Story
A homeless, deaf dog turned out to be the perfect companion to a non-verbal boy who was in need of a friend.
Wellness/Living
74 The Backyard
Cat Lake Friends of Animush.

71GALLERIA
Holiday Gift Guide
From this issue