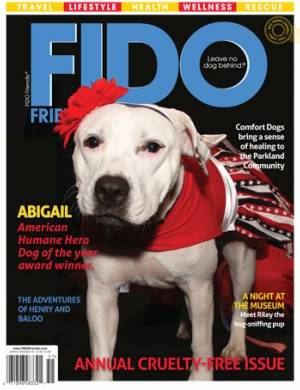 Travel
22 Florida's Forgotten Coast
Discover Franklin County where best friends are always welcome!

24 Fido-friendly City
Portland o ers stay and play destinations for your traveling companion.

30 Sedona Real Inn & Suites
Check out the private on site dog park for guests and their pets.

32 Tropical Dog
The challenge of traveling with Fido in Chile.

34 Adventures in Petsitting
Exploring the Jurassic Coast with the springiest of Spaniels.
Community/Trends
12 Contest Winners
See some of the recent winners and their loot from FIDO Friendly contests!

16 FIDO Fun Zone
From Puparazzi to Crossword Fun, buried treasures await.

20 FIDO Expo
A bonanza of tongue-wagging canines.
Features
36 Henry the Colorado Dog Join Internet sensation Henry the Colorado Dog and his cat sidekick Baloo.

38 Feature Giveaway
Rescue dog Joey is available for adoption and is surrounded by prizes you have the chance to win!

40 Cover
Meet Abigail, the American Humane Hero Dog Award Winner and how she has inspired a nation.

46 Comfort Dogs Arrive at Parkland, Florida
Lutheran Church Charities received an invitation to bring the LCC K-9 Comfort Dogs to minister to the students and faculty of the school and surrounding communities.

48 A Night at the Museum
Meet Riley, the bug-sni ng dog at Boston's Museum of Fine Arts.

50 Annual Cruelty Free Spotlight
Just do one thing to make a di erence for pets and our planet.

54 Meet Bruno the Rescue Cow
Nothing can prepare our publisher Susan Sims for her rst meeting at the Farm Sanctuary with Bruno, the very BIG rescue cow.
Home
56 Where are they Now?
One of our favorite writers, Lady Long Rider, has returned with an update on her journey on horseback and the loss of her beloved Claire Dog.

58 He Yaps/She Yaps
Our two experts reveal di erent techniques for that pup who has energy to burn.

59 Bowser on a Budget
Put some spring in your step with these Fido-friendly packages.
Wellness/Living
64 GALLERIA
Camping & Hiking

74 The Backyard
Leukemia survivor McKenzi Taylor realizes her wish to help sick and injured animals.
From this issue