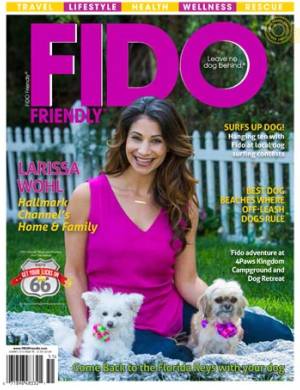 Travel
20 4Paws Kingdom
This "Human-Friendly" Campground in North Carolina Offers a One-of-a-Kind Experience for two-and four-legged Guests.

22 Back to the Beach
Visit the best dog beaches in America.

24 Block Island, Rhode Island
One of New England's best-kept secrets.

26 The Shallows Resort
Family owned The Shallows Resort in Egg Harbor treats you and Fido like family.

28 Florida Keys
There's more fun for Fido and family than ever.

30 Tropical Dog
Take a road trip in the heart of Morocco with Fido.

32 Adventures in Petsitting Walking through elds of gold in the Spanish sunshine.
Community/Trends
12 Contest Winners
See some of the recent winners and their loot from FIDO Friendly contests!

16 FIDO Fun Zone
From Puparazzi to Crossword Fun, buried treasures await.

18 FIDO Expo
A bonanza of tongue-wagging canines.
Features
34 Feature Giveaway
Rescue dog Romeo is available for adoption and is surrounded by prizes you have the chance to win!

36 Cover
Meet Larissa Wohl, resident Pet Rescue Expert on Hallmark Channel's Home & Family.

42 Cruelty-free Interior Design
Deborah DiMare founder of VeganDesign.org and DiMare Design talks about her transition to all vegan, cruelty-free sustainable alternatives in design.

46 Ready to travel and stay for free?
TrustedHousesitters is the largest house and pet sitting community in the world.

52 Mu n's Halo
An innovative device that protects blind dogs from bumping into walls and hard surfaces.
Home
48 Adoption Story
From chains to a wonderful new life.

50 He Yaps/She Yaps
Our two experts reveal different techniques for that pup who is anxious and stressed.

51 Bowser on a Budget
The dog days of summer mean one more chance to make some special memories.
Wellness/Living
54 GALLERIA
Lifestyle Guide, and Summer Travel Accessory Guide

66 The Backyard
PupSocks creates charming socks while helping furry friends in need.
From this issue