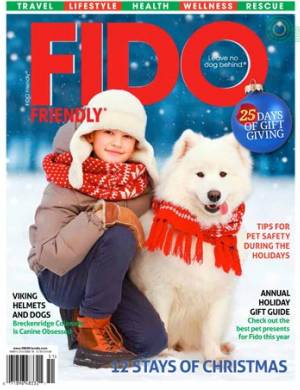 Travel
22 Breckenridge
Year-Round Breckenridge Colorado Fido fun.

24 Whistler
Canada's Fido-friendly mountain paradise.

28 Greenville
Find Canine Southern Comfort in this South Carolina haven.

32 Colcord Hotel
Visit this Oklahoma City historic hotel and don't forget your dog.

34 Tropical Dog
Road trip in Western France with Fido.

36 Adventures in Pet sitting
Lazing through the days with an idle greyhound in northern France.

54 The Draftsman Hotel A hotel dog with a selfless mission.
Community/Trends
12 Contest Winners
See some of the recent winners and their loot from FIDO Friendly contests!

18 FIDO Fun Zone
From Puparazzi to Crossword Fun, buried treasures await.

20 FIDO Expo
A bonanza of tongue-wagging canines.
Features
16 Essay winner
How I spent my summer vacation.

40 Feature Giveaway
Shelter pet surrounded by prizes you can win.

42 12 Stays of Christmas
Give yourself the gift of an unforgettable holiday escape with your best pal this year.

46 Holiday Pet Safety
Steps you can take to keep Fido healthy and safe during the festive holidays.
48 25 Days of Gift Giveaways
Enter to win through December 26 the prize of the day.

50 Delivering packages and smiles.
Jo-Anna Hehir dreamed of a job that would allow her to spend time with her dogs.
Home
30 Crate and Garden
It's time for fall clean up both indoors and out.

38 Pet Adoption Tips
Finding and adopting a dog is not hard. Finding and adopting the right dog requires some thoughtful consideration.

52 He Yaps/She Yaps
Our two experts reveal different techniques for that pup who is anxious and stressed.

53 Bowser on a Budget
This "shoulder season" fetches top marks with many traveling dog lovers.
Wellness/Living
56 GALLERIA
Lifestyle Guide, and Holiday Gift Guide

66 The Backyard
A retired hospice nurse helps mistreated Rottweilers live better lives.
From this issue