FIDO Friendly Blog
FIDO Friendly magazine is proud to announce winning Best Dog Blog of the year 2011 as awarded by Dogtime Media. This is a huge honor for FIDO Friendly, bestowed by the largest vertical media community focused on pet owners.
April 29, 2016 • Travel • Most Popular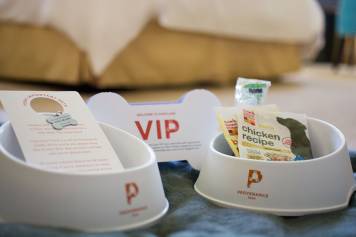 Pet-friendly Provenance Hotels, a collection of eight urban lifestyle hotels in Washington, Oregon, Tennessee and Louisiana, has partnered with the experts at FIDO Friendly magazine to raise the bar on their pet program and ensure the very best in comfort, nutrition and well-being for four-legged travelers. In a natural extension of the Portland-based company's ongoing commitment to...
Related Blog Posts
Recent Blog Posts
May 25, 2016 • At Home • Product Reviews • by Susan Sims

What goes best with a water-loving Lab you ask? It's the Water Loopie from loopiestoys.com.

After you soak the toy, toss it in the water to be retrieved. The pretzel shape lifts the dogs face high on the water decreasing ear infection and water intake.

With six ends to grab and made of neoprene, they float no matter how soaked they get providing hours of beach, pool or lake fun. Nylon bite...