FIDO Friendly Blog
FIDO Friendly magazine is proud to announce winning Best Dog Blog of the year 2011 as awarded by Dogtime Media. This is a huge honor for FIDO Friendly, bestowed by the largest vertical media community focused on pet owners.
August 14, 2014 • Travel • Health & Wellness • Rescue • Most Popular • by Susan Sims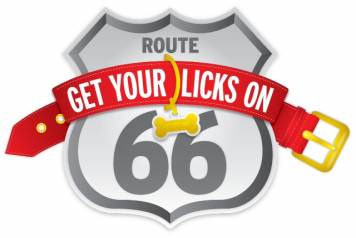 FIDO Friendly's 6th annual month long pet adoption tour: Get Your Licks on Route 66® starts September 12, 2014 in Riverside, CA
We have 16 cities to visit this year and it would be great if you can attend. If you can't attend and would like to donate to the tour, just click the donation button below and you will be taken to a secure site. With a minimum donation of $10 we will send you a...
Related Blog Posts
Recent Blog Posts
September 22, 2014 • Health & Wellness

FIDO thought this latest issue of Pet-Talk was well worth sharing – see how to prepare an evacuation kit for your family AND for FIDO to have ready at all times.

With September being National Preparedness month, it is important to not only prepare the people in our family for when disaster strikes, but also our pets as well. When creating a proper evacuation plan, we must remember to include the...