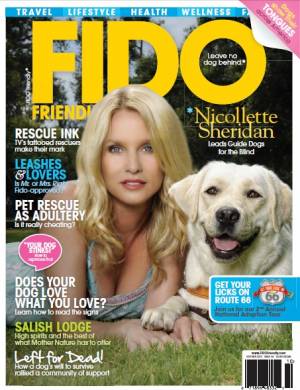 COVER STORY
44 Nicollette Sheridan Desperate Housewives' star dishes the doggone scoop on Fido and her role as spokesperson for Guide Dogs for the Blind.

FEATURES
36 Pet Health Insurance For many, pet health insurance is becoming a viable option.
38 Get Your Licks on Route 66 Get Your Licks with FIDO Friendly and North Shore Animal League as we tour the Mother Road in the name of dog adoption. Trade wheels with wags and join our excursion to save lives.
40 A Day in the Life of TV's tattooed crusaders, Rescue Ink Spend a day in the life of Rescue Ink, as TV's tattooed crusaders swoop in on motorcycles and bust abusers' mindsets one at a time. 46 Zelda's Wisdom If a picture is worth a thousand words, this English Bulldog has the camera savvy secrets to a happy life.
48 Hail to the Pup White House meets doghouse as we salute the top dogs in America's most "paws-tigious" office.
50 Dirty Dozen Some quick tips on how you can give good and much-needed dog parenting advice.
52 Rainy Day Schedule Rain, rain go away, but while you're here we'll play anyway! How to keep Fido occupied when going outside to play is not an option.
54 Empty Nest Fido As school bells ring and family members return to the classroom, how to keep Fido's spirits up and blues to a minimum. Plus win a gift basket of goodies!
55 Left for Dead Shot and abandoned in no-man's land, one dog's desert nightmare ends in triumph.
56 Rescue as Adultery Cheaters end up in the doghouse, literally, as women reveal their secret Fido "affairs" behind their husband's back.
57 Fido Goes Green FIDO Friendly goes eco-friendly and learns how to make doggone easy green changes in Fido's life.
58 GPS Units with Fido Where oh where has my little dog gone? With GPS never fear, Fido's location finder is here!
59 Tooth & Jail Controversial Arizona Sheriff Joe puts inmates to work saving shelter animals' lives.
60 What I've Learned from my Dog Karen Biehl and Eli raise money for a good cause.

DESTINATIONS
61 Peep-a-boo Hide and go leaf seek, as Fido frolics through the colors of autumn's blanket one city at a time.
62 Love It or Leaf It Fido's fall foliage top 10 style! Rich hues of ambers, oranges and reds await as FIDO Friendly presents the Top 10 Leaf Peeping destinations. Grab the camera and leashes and head for nature's autumn bounty Fido style.
64 Nantucket Wipe the sand from Fido's paws while touring this Massachusetts beach town known for its "dogs-pitality".
65 A Howling Good Time No digging up bones on this ghost tour. Leave No Dog nor Spirit Behind this Spooktacular Halloween!
66 Lovin' Leavenworth Oom paw paw! Bark it out at Bavarian Village and all the treasures this treasure town in Washington has to offer Fido and his family.
67 Ink 48 New York state of (Fido) mind makes its ink mark in the distinctive Hell's Kitchen district.
68 Hotel Heathman Luxury lodging in the heart of Portland, OR, where service is an art and Fido comes first.
70 The Salish Lodge Ensconced by the Cascade Mountains, this luxury lodge and spa soothes head to toe, paw to tail.
72 Bicycle Odyssey The worst of what nature has to offer on the cold trail to the ocean of triumph and great realization.
74 Escape From Chile—Earthquake Lorraine Chittock shakes things up, literally, as she evacuates from Chile and finds her fault line returning home.
76 The Woodmark Water, water everywhere with lakeside restaurant and access to a yacht club, follow the leash to the Woodmark in the heart of Washington.

DEPARTMENTS
14 The Parlor Puparazzi, Where's Fido, crossword, writing contest, prizes, anagrams, weird news, and Fido True or False.
18 Show Us Your Tongues Check out the first annual tongue contest!
20 Crate & Garden Mary Mary, quite contrary, how does Fido's garden grow? Dig in and find out.
22 Natural & Holistic Dog Fido's itchy skin dilemma confronted: Scratch that itch once and for all.
24 Pet Nutrition Old Mother Hubbard goes to FIDO Friendly's cupboard and finds out what to do when the cupboard is bare.
26 The Doc Is In Prevention is key, says our vet in preventing canine flu.
28 Training 101 Does Your Fido love what you love?
30 Leashes & Lovers Does Mr. or Mrs. Right pass all the tests and become Fido-approved?
32 Adoption Story An angel in Brooklyn: Sean Casey animal rescue.
34 Best in Show Marching to the beat of 2 x 4, a solider and his Fido trek across America on a mighty mission.
90 Lead Reads Sink your canines into this scary book about the unpredictable behavior of animals.
THE DIRECTORY
80 Lifestyle Guide
83 Travel Directory
88 Marketplace
From this issue