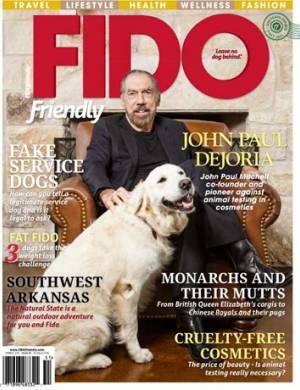 Travel
24 Waco, Texas
Happy Trails With Surprising Views and Detours.

26 Jacksonville, Florida
Festivals, Indie Markets or Nature Preserves? Jacksonville has them all.

28 Devilish Fun with your Dog in British Columbia
Hop aboard a gondola with your dog… into the gates of Hell!

30 Wisconsin's Hayward/Cable Area
An Outdoor Paradise For You And Fido.

32 Arkansas
Known as the 'Natural State' it's natural for you and your dog to get out and enjoy what nature has to offer.

34 Scottsdale, Arizona
Stay pampered with Fido at The Canyons at the Phoenician.
Community/Trends
11 My Business Has Gone to the Dogs
Meet Seth and Julia Kammueller, founders of Perry Dog® a pet industry based online retail company.

12 Contest Winners
Past winners and the loot they received from sponsors in FIDO Friendly contests!

14 Leave No Dog Offline
Follow our twitter and Facebook Fido fun.

16 FIDO Fun Zone
From Puparazzi to Crossword Fun, buried treasures await.

20 FIDO Expo
A bonanza of tongue-wagging canines.
Features
36 Feature Giveaway
A shelter dog from Arizona Humane Society is featured in a photo shoot surrounded by great products you have a chance to win!

38 COVER: John Paul DeJoria
Founder of John Paul Mitchell hair care products and John Paul Pet sits down with FIDO Friendly to talk about his pets and his passion for cruelty free cosmetics.

41 Cruelty Free
As consumers, we all have the power to help put an end to animal testing. Every time you go shopping, it's an opportunity to vote with your dollars.

46 Monarchs and their Mutts
From British Queen Elizabeth's corgis to Chinese Royals and their pugs, dogs have been an essential part of regal life.

48 Fake service dogs present real problems
Imposters and posers finding it easy to scam the system.

50 Cinnamon Snail Vegan Food Truck
Meet the chef who brings fabulous food to the denizens of New York City and New Jersey.

52 Fat Fido
Three 'plump' dogs with the help of their guardians and a few Fido-friendly sponsors are winning the battle of the bulge.

54 RVing Takes Ruffin it to a Whole New Level
Fall weather in Oregon is the perfect time to enjoy crowd-free downtime with Fido.

56 Car Buying Guide with Fido in Mind
Here are some top picks in Fido-friendly vehicles for 2015.
Home
59 Table For Two
These treats are quick and easy to make and are a great choice if Fido has sensitivities to gluten and common grains.

60 He Yaps She Yaps
Are dogs word-worthy; do they really know words or are they just responding to the tone of your voice?

61 Bowser on a Budget
Warm up to spring with some super savings.

62 Adoption Story
Gem—a precious discovery amidst trash.

64 Crate & Garden
Keeping your spring garden safe from Fido.
Wellness/Living
67 The Glossary
Veterinarian-to-English dictionary.

68 Psychology
How to be Paw-sitively Happy!

70 The Doc is In
Probiotics, or "good bacteria," can be defined as living microorganisms.

82 The Backyard
Meet 16-year-old Annie, who, because of her deep affection for her canine pal, Teddy, uses her paintings to help spread the word of heartworm disease awareness.
From this issue